Details …
Your PlanetBox comes with everything you need to pack your child the lunch they will love. All children have their own likes and dislikes when it comes to their lunches. One child likes variety and surprises, while another likes the familiarity of that same PB&J sandwich every day. But neither child likes it when their sandwich touches their fruit.
When we started our company we wanted our products to be durable enough to last for years, but flexible enough to stay "fresh" and grow with your child's changing interests. We found the right solution with our super fun magnet themes. Let your child choose which one they like best.
The Carry Bag (independently certified to be safe from lead, phthalates, and BPA) was created to comfortably hold and transport your new PlanetBox. The bag can be unzipped to perfectly hold the PlanetBox during meal time. The exterior fabric of the bag is made of 100% recycled super durable 600D polyester, spun into an easy to wash and clean fabric.
Our Thoughts …
Grace was sent the PlanetBox which was perfect because that lovely lunch box we bought at Target … what three months suddenly had a big hole in it. While I couldn't believe that lunch box didn't hold up at the same time I knew it wasn't going to last looking at it.
She loves the pink carry case that her lunch is now in and just looking at how well this is made, I know it will last her years instead of three months! Her's is like this …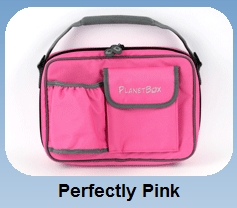 We picked the Under the Sea magnets for the lunch box because Grace loves The Little Mermaid and aquariums. I added her name sticker to the front to claim it as hers! I was worried she would manage to loose all of the magnets but they have stayed on there and are holding up nicely. Plus it would be easy to change them over to another set if she wants to at some point!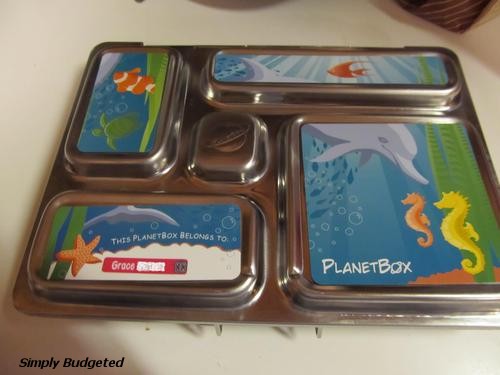 As for her lunch, I wasn't sure how to pack it when this came. I had gotten better about not using six ziploc bags every day by using a sandwich box and some other little containers. I was used to tossing a whole apple or banana in her lunch though. So getting creative with the fruit for her lunch is the only challenge we have had with the PlanetBox. I do still put some packaged items in her lunch like cheese but I strive to not add any packing to the lunch which has been great! Here is her lunch from one day last week … she some how ended up with two sweets this day. Not sure how the one day I took a picture, we broke the one sweet rule! oh well!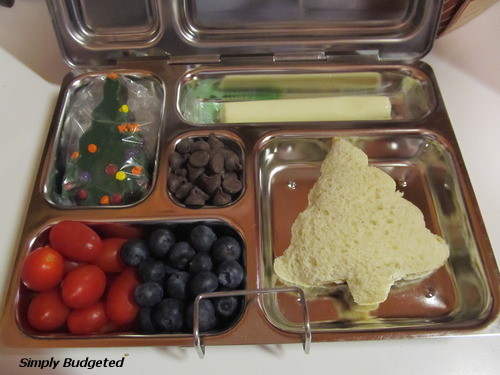 I have started to put less water in Grace's water bottle she takes with her lunch. Since the PlantBox is stainless steel it is heavier than her old plastic/canvas/fall apart lunch box so I have tried to adjust that for her Kindergarden back to handle. She loves that she can get the little containers apart for dip and such because the plastic ones I was sending she had to ask for help with her lunch. For Grace, the size of this lunch box is perfect and I think that is something to keep in mind as you decide how much lunch your child needs!
Overall we are very pleased with the PlanetBox and would recommend it. It will last your child a long time. So the price is an investment in not buying cheap-o Target lunch boxes every 3-6 months because they get holes in them! That is a great budget saver there.
Check out PlanetBox as a great holiday gift or just planning for the next part of the school to replace that Target-falling-apart lunch box when you send your child back to school in January!
NOTE: We were sent a sample product in support of this review. No other compensation was received. All thoughts and opinions expressed in this review are our honest opinion.