Are you trying to get active this Spring and Summer? We love to be outside doing various activities but the struggle often is how to include our kids in the activities.
B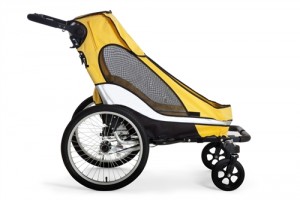 rian has picked up running again so a Jogging Stroller would actually be a great piece of workout gear for him. I don't know how willing he would be to push 40 – 80 pounds of kid weight up the hills in our neighborhood though but it would be an awesome addition to his workout. Brian has also talked about getting a bike again soon. It has been awhile since he has had a bike … even longer since I had a bike! The girls are getting good at riding on their bikes but it will still be awhile before Matthew can do a bike trip. A solution that worked for jogging and biking would perfect for our limited garage space!
The Zigo Mango is not only a stroller, or just a jogging stroller, but also a kids bike trailer! This stroller is ready right out-of-the-box! You will save money but not buying add-ons! The Zigo Mango Stroller accommodates 1 or 2 children (with a second harness). That harness is a 5 point safety harness that will keep your kids in the padded seats while riding on the 4 point shock absorbers! One of most appealing features to Brian and I would be multi-position adjustable pushbar! We have found that a stroller works for one of us but not both of since I am so much shorter than he is! It would great to have a stroller that was comfortable for both of us to use.
Would a combination stroller like the Zigo Mango work for your family? Leave a comment and let us know!