Holidaying in the UK doesn't have to cost a fortune.
More and more families are looking for budget breaks that don't break the bank and this is where a 'staycation' can prove excellent value for money.
Here we pick out four areas of the UK ideal for a cheap family getaway.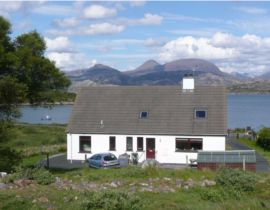 Scottish Highlands
The emphasis with Highland holidays is firmly on getting well away from traditional tourist traps and that tends to bring the price of a short stay down. Explore the historic castles here and get out and really enjoy the great outdoors, whether that be on foot, on a boat, on two wheels or on four wheels. The more adventurous among you may also fancy tackling Ben Nevis, the highest mountain in Britain, or maybe you simply want to just hide away in Scottish holiday cottages.
Lake District
The oasis of calm that is the Lake District is manna from heaven for people who like walking, climbing, mountain biking and a whole host of other outdoor pursuits. Most of these activities are pretty much free of charge to partake in providing you already have all the necessary equipment and it's worth a trip to places like Ambleside and Keswick just for the views of the stunning scenery alone.
Peak District
An often overlooked part of the UK for those planning to stay at home, the Peak District is just as beautiful as rival regions. Culture vultures should enjoy taking a peak around Chatsworth House and sampling what life is like in attractive villages such as Bakewell, while there's fun for all the family at the Heights of Abraham and underground attraction Poole's Cavern.
Yorkshire Dales
The Yorkshire Dales has a bit of everything. There's the lovely spa town of Harrogate, interesting rural towns and villages like Settle, Skipton and Grassington, the Yorkshire Three Peaks to scale, Malham Cove, Bolton Castle, various accessible cave systems and an almost endless lists of other things to see and do.
This post is brought you by Scottish Cottages.