Details …
By 1890 H.W. Carter & Sons became the premier manufacturer of denim overalls and "work wear". Carter's Overalls were famous throughout the United States. The company expands to marketing boy's overalls, as well as railroad overalls, painter pants, coats, jumpers and putting shirts eventually putting everything under the simple trademark "Carter's". Growing again a few years later to selling their new ski jackets, sport jackets and wool mackinaw coats, Carter's would soon acquire the Watch the Wear Overall Company of Keen, New Hampshire and its trade name "Watch the Wear".
Under the new trademark of "CARTER'S Watch the Wear", H.W. Carter & Sons continued to expand and grow. Forging through the strain of the Great Depression, CARTER'S Watch the Wear workwear proudly supported American workers as they pushed forward to victory in World War II. CWW was there in coal mines, factories and manufacturing plants. And after America was all done pulling themselves up by their  bootstraps and building the American Dream one long day at a time, CARTER'S Watch the Wear was right there with them as the country shifted over to the leisure time of diners, drive-ins, and road trips.
CARTER'S Watch the Wear brand is rooted deep in American history and Americana. Since its inception in 1859, over 150 years ago, by Henry W. Carter, in Lebanon, New Hampshire, the people of H.W. Carter & Sons and the CARTER'S Watch the Wear company have strived to achieve something they can take pride in, something that has been a symbol of quality in the making of sturdy denim workwear. Now they enter a new chapter in history while keeping the spirit and principles of Henry W. Carter alive. What was once designed for the men who hand built America, is now made for everyday families who keep America thriving.
Our Thoughts …
We were sent three outfits for our little man! They were the Toddler 2 Piece Short Set – Red Race Car, Toddler 2 Piece Short Set – White Plaid, and Toddler 2 Piece Short Set – Blue Stripes & Black Denim.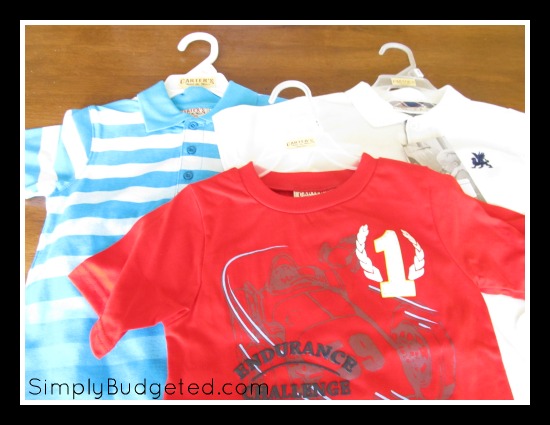 I have to say he loves them all! He loves to eat his favorite Chocolate Chip Cookies …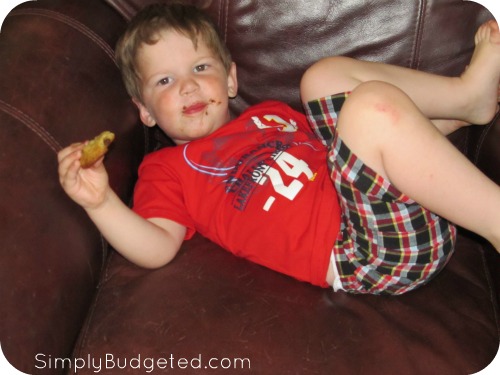 He loves to doze off into a sweet nap in a crazy position …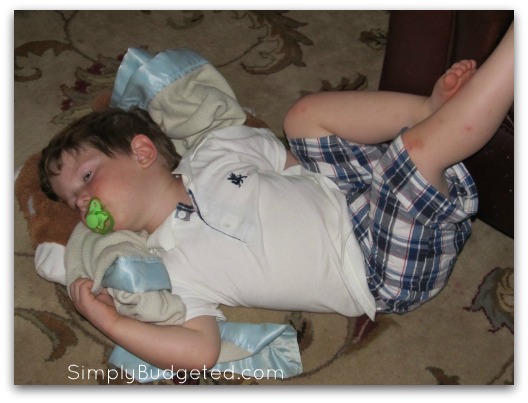 These clothes are great quality and hold up a little boy getting really dirty (how do they get so dirty?!) The price of these sets is perfect for families on a budget. So be sure to check out some of the great sales at Carter's Watch the Wear! Take a second and follow them on Facebook too!
We are so excited that get to giveaway a$25 gift cards to TWO winners!!
a Rafflecopter giveaway