Friday Favorites is another almost weekly feature here at Simply Budgeted. The whole point of this feature is to share some of our favorite finds. Anything is game. Food. Cleaning supplies. Kid stuff. Garden favorites. Recipes. Anything that I really like and want to randomly post about.
Reminder/Disclaimer/Whatever: Everything in Friday Favorites is something that we use and bought on our own.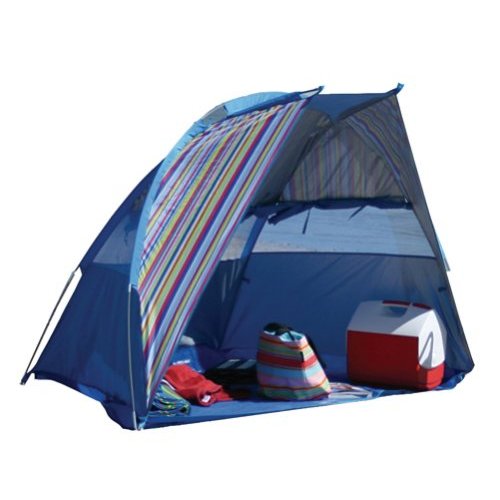 Details …
3-sided beach cabana for protecting yourself from UV rays
Heavy-duty polyurethane-coated taffeta construction offers full UV protection
Ripstop polyethylene floor and 3 no-see-um mesh windows with storm flaps
3-pole pin-and-ring system with shock-corded fiberglass poles; flame-retardant
Includes 4 weight/sand bags for stability; measures 48 by 84 by 48 inches (W x H x D)
Our Thoughts …
Last year we were headed to the beach so I headed to Amazon to find a shelter and we didn't use it on our beach trip then. We didn't use it because we realized the kids would stay for no more than 30 minutes out there. This year were determined to make it a longer time out there. So we did what every person does and built this in our living room before we left so we knew how to put it together. It is really simple to be honest. It has three folding sticks that you slide through the pockets and put in the pins. It will take you two people to put up on a windy beach though so keep that in mind.
This really helped during our beach trip because Matthew and Grace were able to go hide in there. They like to play in the sand some but then they are done. So they had a few snacks and just chilled in the shade for while.
Now folding the cabana back up at the beach was a real challenge with the wind and trying to get it back in the carry bag so we could carry it and everything else back with us. After some effort and wind blowing, Brian managed to get it folded back up and in the bag though.
We were happy that our little shelter stayed standing when saw a couple of beach umbrellas take off during our beach time. We will be excited to pull this out again sometime!
I bought this off Amazon last year but it is still available on Amazon though!
What is your beach must have item? Leave us a comment and let us know!