Details …
Summer is on its way and with that comes a schedule jam packed with play dates, summer camp, and road trips. With all these activities planned, there is one thing your kids are sure to need … great tasting snacks! Fortunately the Mott's® taste that kids love is now available in yummy fruit flavored snacks! Available in Assorted Fruit and Berry varieties, Mott's® Medleys Fruit Flavored Snacks are the ideal blend of great tasting and quality ingredients that will make both kids and moms happy.
Made with real fruit & vegetable juice* and natural colors and flavors
Available with year round Double Box Tops
Mott's® Medleys Fruit Flavored Snacks are great on-the-go, so whether your family is lounging by the pool, playing in the park, or hanging on the beach this summer, Mott's® has snack time covered! You can visithttp://bit.ly/MottsCoupon to download a printable coupon for $0.60 off the purchase of (1) Mott's® Medleys Fruit Flavored Snacks today!
*Made with pear, apple and carrot juice concentrate. See package for complete details. Not intended to replace fruit or vegetables in the diet.
Our Thoughts …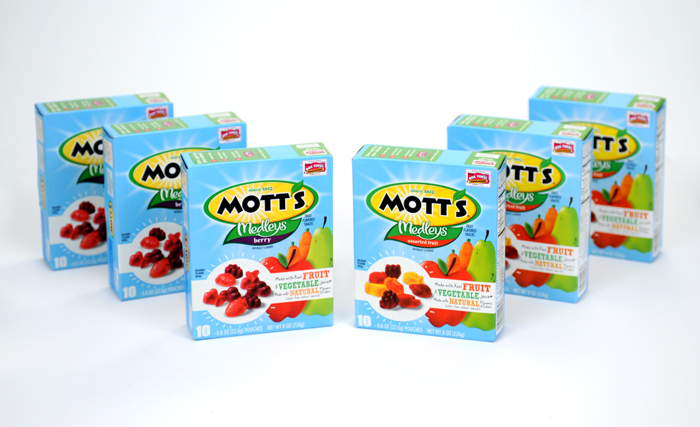 We were sent …
3 boxes of Mott's® Medleys  Fruit Flavored Snacks in Assorted Fruit
3 boxes of Mott's® Medleys Fruit Flavored Snack in Berry
I took the Assorted Fruit variety to a Girl Scout meeting. I had a last minute cancellation on snack and need to grab something so fruit snacks it was! I wasn't sure if the kindergarten and 1st grade girls would like them or not but I was pleased to see that even my picky snack eater Girl Scouts gobbled them up! I knew right there that these would be a hit for our family. I will note since it is summer time that these fruit snacks like all others, get sticky and melt in the heat so don't leave them in your car on a hot day … just sayin'!

We are excited to giveaway the same gift box to FOUR (4) of our readers!! FOUR!
a Rafflecopter giveaway