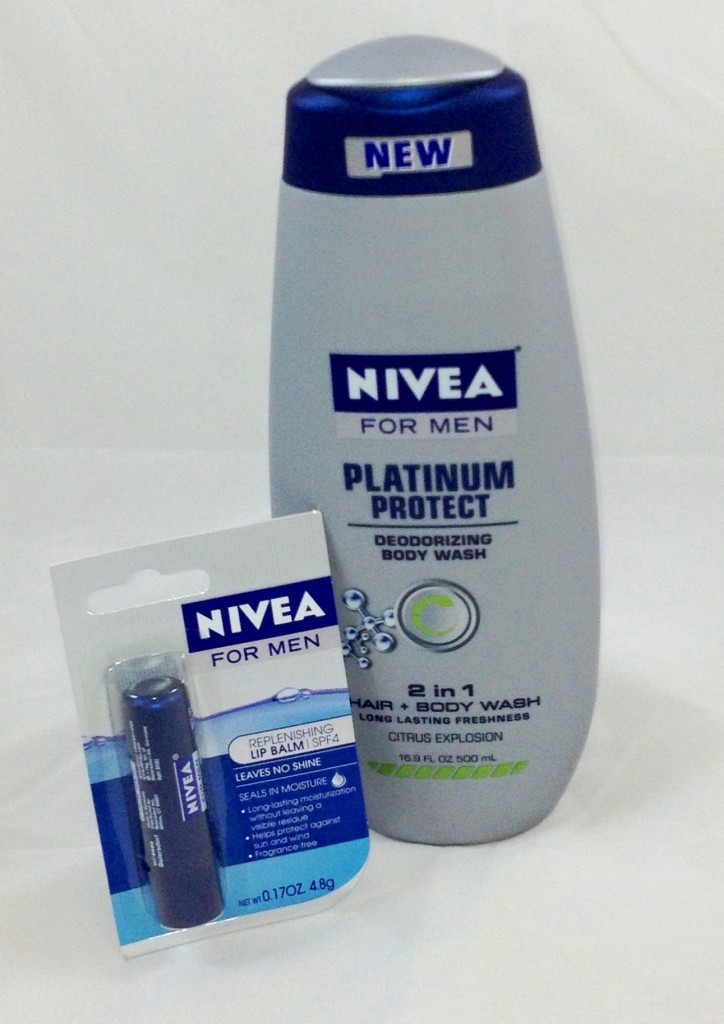 Details …
NIVEA FOR MEN Platinum Protect Deodorizing Body Wash – This deodorizing hair, face and body wash with Smart Deo Technology removes dirt and odor causing substances while the intense foaming formula provides a Platinum-level clean without drying out your skin leaving a refreshing scent.
NIVEA FOR MEN Replenishing Lip Balm SPF 4 – This lip balm provides long lasting moisturization and hydration without leaving a greasy residue. It absorbs quickly, is free of color and fragrance and won't leave a shine. But it will seal in moisturize with special moisturizers Vitamin E, Shea Butter and Jojoba Oil.
My Thoughts …
I got to try out the Body Wash while we were away on vacation.  Let me tell you, this stuff is great for taking along on a trip.  You can be in and out the shower faster because you are only using one product and the "Ocean Burst" scent will turn some heads.  A guy simply does not want to have to pack shampoo, conditioner, soap, and who knows how many other products.  If we can get away with packing one thing to keep us clean, we will definitely take advantage.  This product takes up less room in the luggage, gets you out and about faster, and, according to Beth, it smells "fresh but manly."
The Lip Balm has been nice to try out.  I don't usually like putting balms, lotions, or whatever else on my lips, particularly if they are flavored.  On vacation here, however, the sun has been out with a fierceness and the sand can really dry out my lips.  I have especially found more issues when I go out for my morning runs.  This product is flavorless, not really greasy at all, and, after a few minutes, you hardly know that you've put anything on.  It goes a long way to helping with the dryness that comes from sand, sun, and salt when you are out on those beach vacations and I plan on continuing to use it as I start on my longer runs this fall.  All in all, a good pick up.
And now, thanks to Nivea, we are very excited to giveaway a gift pack that includes one  NIVEA FOR MEN Platinum Protect Deodorizing Body Wash and one NIVEA FOR MEN Replenishing Lip Balm SPF 4 to one of our readers!!
a Rafflecopter giveaway