Do you know where the Natural Bridge is? If you guessed, Virginia then you are right!
This amazing site is only two hours from our house. This was my third visit to the Natural Bridge and Brian's second. I still remember the first visit there. My parents were taking me visit Virginia Tech as I was searching for colleges that offered a degree in Computer Engineering and I begged to stop there. My brother and sister probably could have killed me but I love see history and this history was so close yet we had never been there. The second time I went to Natural Bridge is also memorable as I was 7 months pregnant with Grace when Brian and I went there. I waddled down the steps and the little path to falls. It was a nice walk is what I remember. This time we went with three kids in tow. What a different experience that was!! Here is our visit in pictures …
We managed to get a great family picture in front of the Natural Bridge! (Did you know that Rt. 11 still drives over the bridge today?!)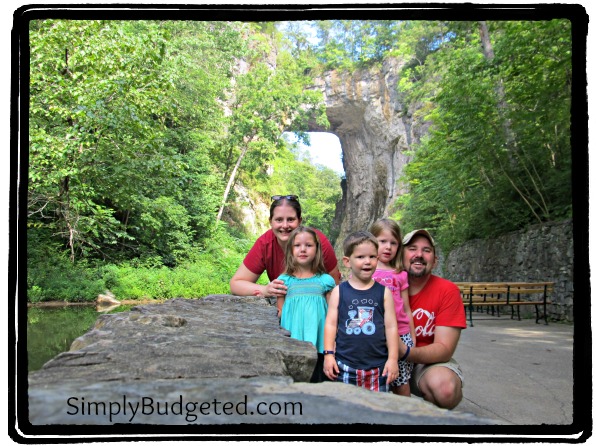 We also some how managed to get a picture of each child with the bridge  … no idea how we managed that!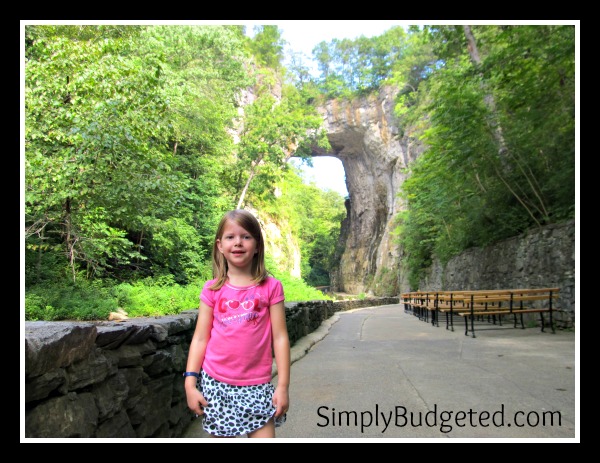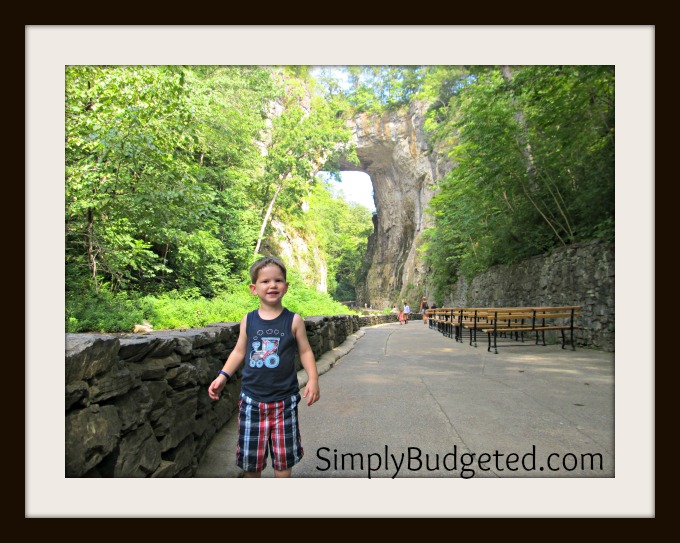 Plus a picture of all three kids looking at the camera!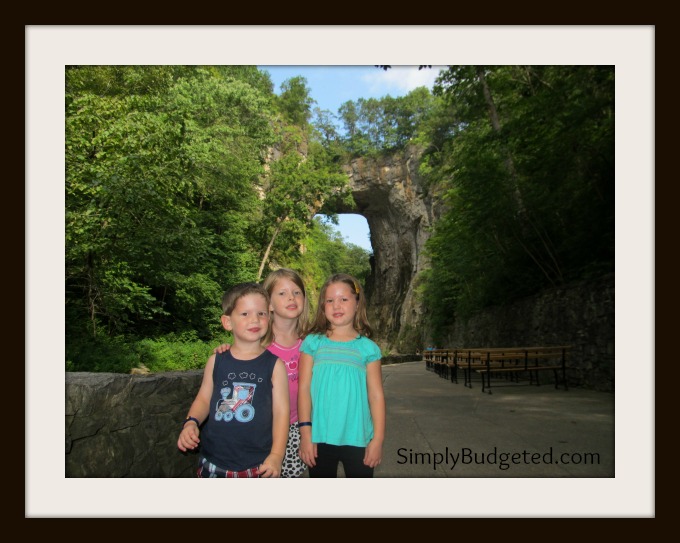 Then we walked the path down the falls where we saw nature …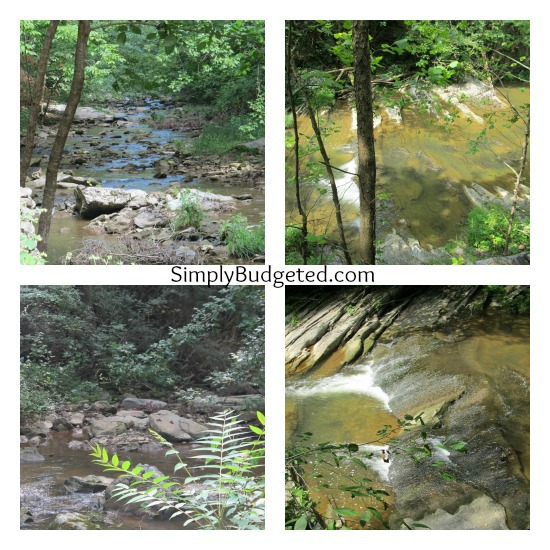 the Native American Village …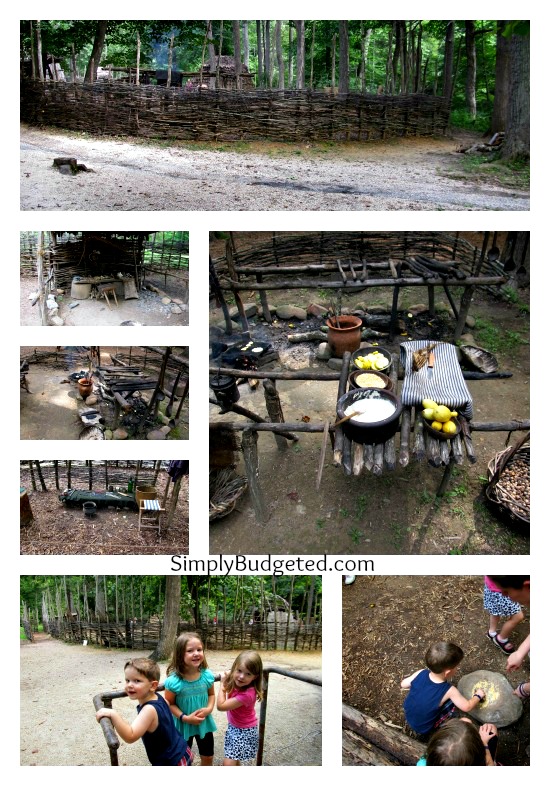 and Lace Falls. Grace took some pictures at the end of the trail!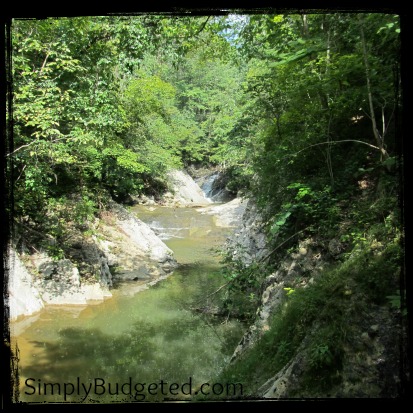 Our ticket also included admission to the Toy Museum and Butterflies at the Bridge exhibit. The kids loved the butterflies … especially the one that landed on my pants at one point!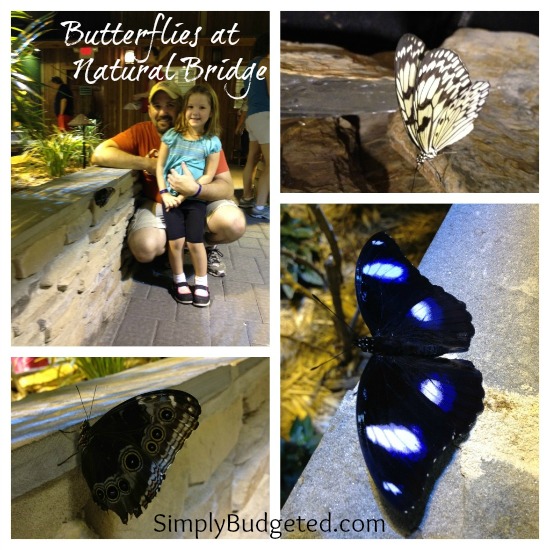 Our tickets also included admission to the Natural Bridge Caverns but the kids were completely worn out so we skipped that part. Brian and I did the cavern tour back during our pre-baby visit and it is a great cavern to visit. I loved that the crowds were smaller and the tour wasn't really long which were both good for a very pregnant lady. I hope that our next visit to the area, I remember to take sweatshirts and the kids have a little more energy to do that tour too!
Looking for a great escape?! Natural Bridge offers great specials year round that budget & value-minded traveler would appreciate!  Example offers are the Escape packages for 2 people start at $89 (45% savings on hotel, attractions passes, and breakfast that runs through Labor Day and $8 off combo ticket admission! Current offers can be found at www.NaturalBridgeOffers.com. Plus there are special events coming up at Natural Bridge like the Girl Scout Day on September 22nd and Homeschool Day on October 4th. New fall promotions will be posted after Labor Day so watch for those if you want to visit the beautiful Virginia mountains in the fall!
Have you ever been to Natural Bridge? You will want to be sure to visit if you are ever in this area of Virginia!