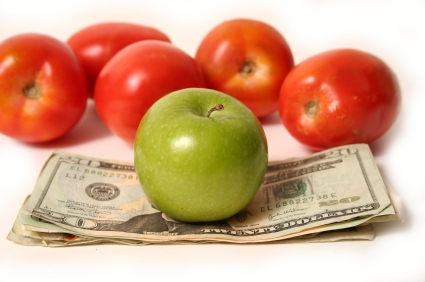 Have you ever thought about what kind of value you get when you eat?  How often do you take your family out to eat only to get stuck with a $50 bill for something that you know that you could have made for $15?  I'm not talking about fine dining, here.  I'm talking about just going to get an appetizer, a salad, and a pizza at the local Italian place or heading out to get a steak dinner.  Even hitting up fast food restaurants can set your family back $30 without blinking an eye.
Every family needs to prioritize how it spends it's money.  In our family, we look for those "good value for money" moments.  Some items are not worth spending your money on.  We would rather spend a little more money on a great steak that we cook at home than spend triple that on a mediocre steak at a restaurant.  Even finding coupons for large bags of chicken nuggets and french fries can save you bundles over buying kids meals at a fast food restaurant.
Other things are worth spending some money on.  Beth is allergic to certain types of seafood.  It is not worth the expense or effort of cooking a lot of seafood when I am the only one eating it.  In these cases, it is well worth it to have a special night out.
So when you look to find value for your food money, think about trying to plan your meals ahead of time.  Too often, we choose to eat out due to a lack of available options.  If you know your busy nights in advance, you can plan meals that are easy to prepare or that can be prepared days before or even in the slow cooker.  You can save the harder to prepare dishes for the nights when you have more time.  Most importantly, having a plan for eating at home can save you loads of money that you can use to really enjoy those special occasions.
What are your "good value for money" moments?  Leave us a comment and let us know.