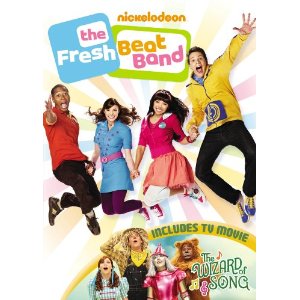 Details …
In the title episode, Marina gets swept up into a windstorm and lands in Oz where she meets Glinda the Good Witch played by Sarah Chalke (Scrubs), befriends a Scarecrow (Twist), a Tin Woods-Woman (Kiki), and a Lion (Shout).  They set off on a journey to find the Wizard of Song (Jason Mraz) so he can help Marina get back home.  In addition, preschoolers can enjoy two bonus episodes from the hit live-action series.
Our Thoughts …
Maybe you just read the Halloween costume review post and were caught up on the fact that Brian read The Wizard of Oz to the girls this summer at bedtime. If not, you now know that little tidbit of information! The kids have watched The Fresh Beat Band but we didn't have DVDs of them. When this arrived though,  Little Dude ran around saying "Fresh Beat Band, Fresh Beat Band, Fresh Beat Band!" He was thrilled. This DVD is one that all of the kids will watch and isn't just a boy or a girl show which is great when we need a rest or quiet time for the kids. This is also one the few DVDs that Little Dude likes to watch in the van so it is often out there in the DVD player for longer car rides.
If you have a Wizard of Oz or Fresh Beat Band fan at your, house they would love this DVD. You can find this DVD at Amazon for a great prices too (or check out the instant streaming option!)
Leave us a comment and let us know if you love The Fresh Beat Band at your house!