Friday Favorites is another almost weekly feature here at Simply Budgeted. The whole point of this feature is to share some of our favorite finds. Anything is game. Food. Cleaning supplies. Kid stuff. Garden favorites. Recipes. Anything that I really like and want to randomly post about.
Reminder/Disclaimer/Whatever: Everything in Friday Favorites is something that we use and bought on our own.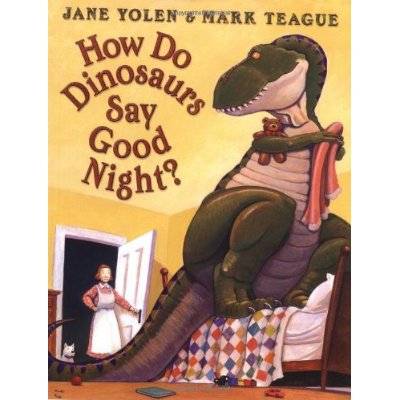 Details …
In each playful spread of this read-aloud bedtime book, parents are ready to put their kids to bed — but these youngsters just happen to be dinosaurs! And though they may stomp and slam their tails a bit, in the end they act a lot like people: they give a big kiss, turn out the light, and whisper "good night."
Our Thoughts …
Matthew is in a huge dinosaur stage right now. He has rediscovered this book and loves it at bed time. If he is luck, Brian and I both read it to him once at bedtime! He will say "nooooooo" when the questions are asked in the book which makes me smile at his response to understanding the book. The book ends "Good night. Good night, little dinosaur." If I say the first "good night" he will finish that last pages and it just warms my heart to hear him say that.
This book is a good buy over on Amazon right now so check it out!
We are excite to have this boy bedtime story in our children's book collection. I now what to add the other books in this series to our collection. Do you have favorite bedtime stories at your house? Leave us a comment and let us know.