Yup, a Meatless Monday post by me. Watch out! I am excited to share a recipe that a co-worker gave me recently. I have no idea what the name of it is really so I named it after her. I do know that she told me the recipe off the top of her head. I also know she makes her own pie crust and well I don't have the time for that so this version of the recipe uses ready-made pie crusts.
I will also admit that I forgot the sugar in the recipe. Well if I said I almost forgot the sugar that would be more accurate. I had to peal back the top crust and stir the sugar into the corn mix. At this point, I was certain I had ruined the dish. It came out fabuolous though.
I love how versatile this dish is. We had it as a side dish one night but Pam said she eats it as a main dish so I think we will have it again as a Meatless Monday main dish! This would be a great holiday dish or family pot-luck dinner dish.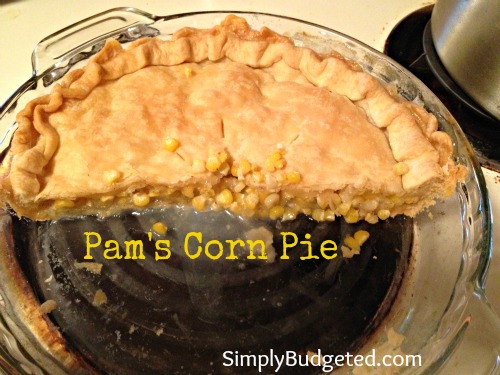 Pam's Corn Pie
Ingredients
2 cups corn (I used fresh corn but you could use thawed/drained frozen corn too)
1/2 c milk (I used skim milk)
2 tbsp butter chopped into small cubes
1/4 c sugar
salt and pepper
2 ready made pie crusts
Directions
1. Preheat oven to 400 degrees.
2. Put one unbaked pie crust in the pie dish and crimp the edges.
3. Mix together the corn, milk, butter cubes, sugar, salt and pepper in a small mixing bowl.
4. Pour the corn mixture into the pie dish and cover with the second pie crust. Crimp the edges of the two crusts together. Cut vent holes into the top crust.
5. Bake at 400 degrees for 10 minutes.
6. Turn the oven down to 325 degrees and continue baking for another 35 minutes.
Serve warm!
Have you ever had Corn Pie? Leave us a comment and let us know. Maybe I have been living under rock never hearing about this but maybe I have shared something new with you!
Does your family participate in Meatless Monday?  What are you having for dinner tonight?  Have a Meatless Monday experience, recipe, or request?  Leave us a comment and let us know.  We'd love to hear from you!
Meatless Monday, a national nonprofit public health initiative, is all about incorporating more vegetables and less meat into our diet. It's about moderation, just one day a week, cutting down on meats high in saturated fat and increasing protein-rich plant-based foods — good for personal health and good for the planet.
"Come join Love the Pie with TidyMom  sponsored by Whirlpool and enter to win a new Whirlpool Range"