This post is full of information about a Cook-Along, a recipe featuring Chef Boyardee products, and a giveaway so be sure to read it all!
Cook-Along Announcement
What: A virtual Cook-Along called Family Time, part of The Little Chefs Project series on The Motherhood.
The Little Chefs Project series consists of live chats called Cook-Alongs taking place every Thursday at 2 p.m. ET until November 15, and each Cook-Along covers a different topic around cooking with kids. Family Time addresses how you can get the whole family involved in meal preparation and clean-up, along with bonding over breakfast, lunch and dinner.
When: Thursday, November 29, at 2 p.m. ET.  It will last 30 minutes.
Where: The Motherhood – here is the link to the page where the class will be held: http://bit.ly/VSSxke

About the class: No matter how busy the schedule gets, there's never a bad time to get your kids in the kitchen for quality time. Bond over homemade pizzas and buffet-style meals, have the kids help set the table, or start a fun, family clean-up line after sitting down together for dinner. Mealtime is family time!
To participate, just click the link above, log into The Motherhood using your member ID (if you don't have one, it's easy and free to sign up), and chat away in the text-based comments. We'll also have a video feed running during the half-hour Cook-Along, so you're welcome to show up simply to watch if you'd like!
The Cook-Along is sponsored by Chef Boyardee, and it is hosted by The Motherhood.  You can visit Chef Boyardee online at http://www.chefboyardee.com/ or on Facebook at http://www.facebook.com/chefboyardee.
The fabulous people who will be co-hosting with me are:
Ashley, Front Porch Swing http://www.myfrontporchswing.com
Beth, Simply Budgeted http://www.simplybudgeted.com
Jennifer, Double Duty Mommy http://www.doubledutymommy.com
Jessica, The B Keeps Us Honest http://thebkeepsushonest.com
Linsey, Lille Punkin' Reviews http://www.lillepunkin.com
Liz, Thoughts of a Mommy http://thoughtsofamommy.net
Renae, How to Have it All http://howtohaveitall.net
Oh and I will be LIVE during this chat! I would love to see some familiar screen names there! Feel free to tweet me your Motherhood screen name so I can be sure to say HI!!! Are you ready to cook with your little chefs?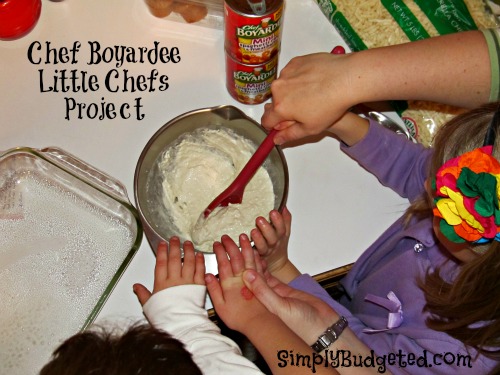 I headed over to the Chef Boyardee Recipe Page to be inspired for dinner tonight. I decided to try the Pepperoni Spaghetti Bake but being that I made this with the kids and not Brian, that means I  didn't follow the recipe (on purpose). Our kids LOVE making this recipe … they loved being in the kitchen with as the pictures show!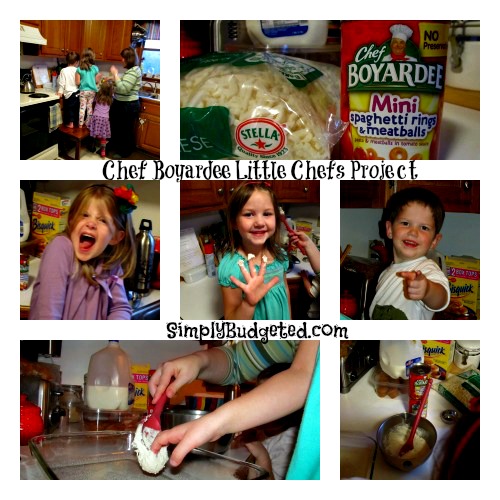 Spaghetti-Rings Bake
INGREDIENTS
PAM® Original No-Stick Cooking Spray
1-1/4 cups original baking mix
1/2 cup reduced fat (2%) milk
2 cans (14.5 oz each) Chef Boyardee® Spaghetti Rings & Meatballs
2-1/2 cups shredded part-skim mozzarella cheese, divided
DIRECTIONS
Preheat oven to 375°F. Spray 13×9-inch glass baking dish with cooking spray. Combine baking mix and milk in medium bowl; stir until soft dough forms.
Drop 6 dough spoonfuls on bottom of baking dish (will not completely cover bottom). Spoon 1 can spaghetti rings and meatballs over dough and sprinkle with 1 cup cheese. Top with remaining can spaghetti and meatballs, remaining 1-1/2 cups cheese.
Bake 25 minutes or until dough is done in centers and browned.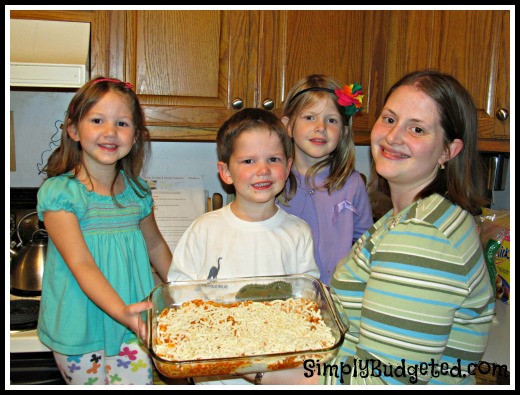 We are really excited to offer a giveaway prize pack that includes includes: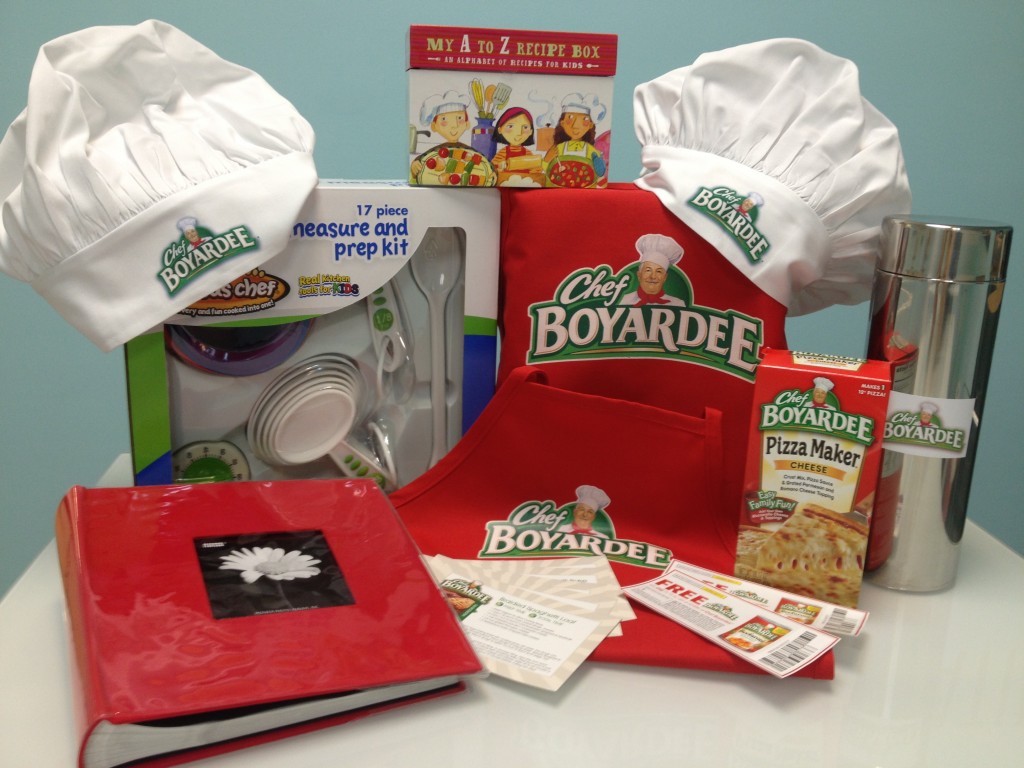 Kids' kitchen measure and prep kit
Kids' recipe box
Scrapbook album
2 Chef Boyardee chef hats
Chef Boyardee adult apron
Chef Boyardee child apron
Chef Boyardee pizza kit
Time capsule
2 coupons for free Chef Boyardee Beefaroni
5 Chef Boyardee recipe cards
Good luck in the giveaway and I hope to see at the Cook-Along!