I was excited to hear about the Dial into Giving campaign partnering with Champions for Kids because I love to hear how companies give back to communities. #DialCFK We are blessed that our church is very involved in our local community. Near the end of this month, they are hosting a Pampering Day for low income mothers. Part of this event is providing basic health and hygiene bags to the mothers to use for their families. When I found out about the opportunity to work with Dial on a Champions for Kids simple service project, I knew that the Pampering Day would be a perfect match!
About Champions for Kids …
Will you help us build a better world for kids?

No child should ever go to school hungry, cold or without the resources they need to thrive.

In America, 16.8 million children do.

Champions for Kids works to ensure all children have the resources they need to thrive. Our goal is to mobilize 20 Million people by 2020.
You can find out more about Champion for Kids by liking them on Facebook and following them on Twitter!
A simple service project is great for families because you can get your children involved. We talk to our kids a lot about sharing. Their money banks are divided into three sections with one of those sections being money they earn that they get to share. Plus sharing is one my favorite topics in the Girl Scout troop I lead. So that being said, sharing is not a new concept for our kids and it brings me such joy how excited they get when they learn we are going on a mission to share with others.
We started out with our shopping list where I wrote down not only what we needed but what was needed for the donation drive. Even though I had my list as we drove to Walmart, the kids and I talked about items that families need to keep clean and stay healthy. I am always amazed by the answers the kids give me considering our oldest is only six years old!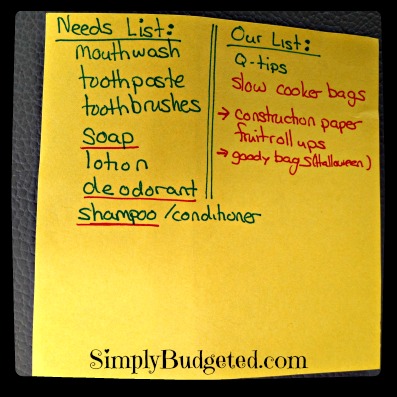 Our first stop on our donation list shopping effort was the soap section at Walmart where we found several Dial products. I was excited to see that Dial hand soap was on a roll back price and was the same price as the store brand! I am told this promotion is good through the end of October so stock up. I also heard there are Halloween soaps out but I didn't see these in our Walmart the day we went shopping. I might have to head back to look for them though!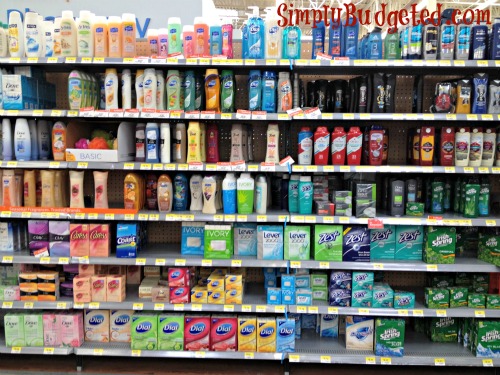 The kids told  me all about how it is good wash your hands to stay healthy as we stood in this aisle at Walmart. They also reminded me that you needed soap though and that we should get some soap to share. I learned that they like to pick soap by the package appearance more than the price, brand, or scent! With some coaching, we were able to agree on some Dial hand soap and Dial bars of soap to add to our donation!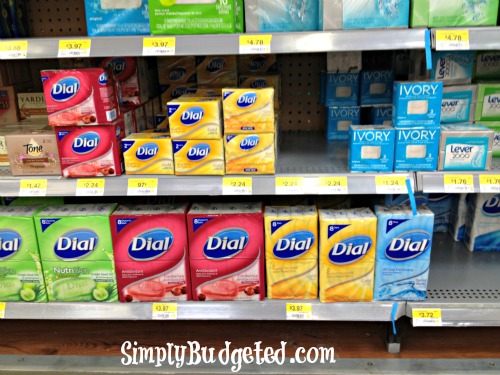 I have no idea why Matthew has this expression in this picture. The buggy was not moving when I asked them to smile for a picture to show off our shopping but it cracks me up they were that excited about adding toothbrushes and toothpaste to our donation in the next aisle over at Walmart.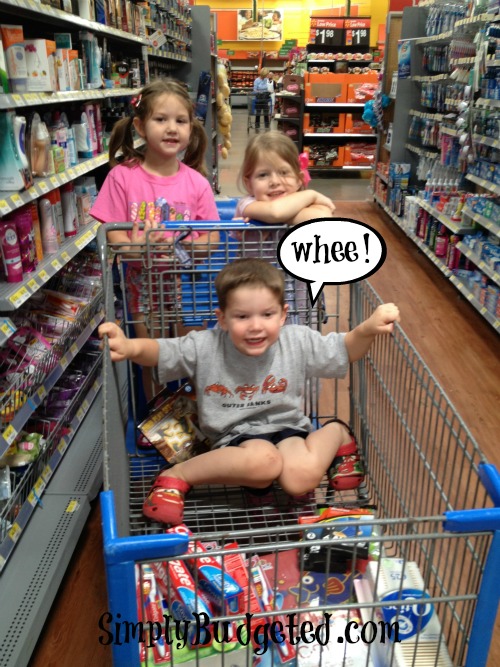 We picked up the other items we needed from our family shopping  list to finish our shopping trip. As we were getting ready to check out, the kids then decided they would count everything we bought for our donation as we put everything up on the conveyer belt. I guess they were reminding me once again that there are learning lessons every where!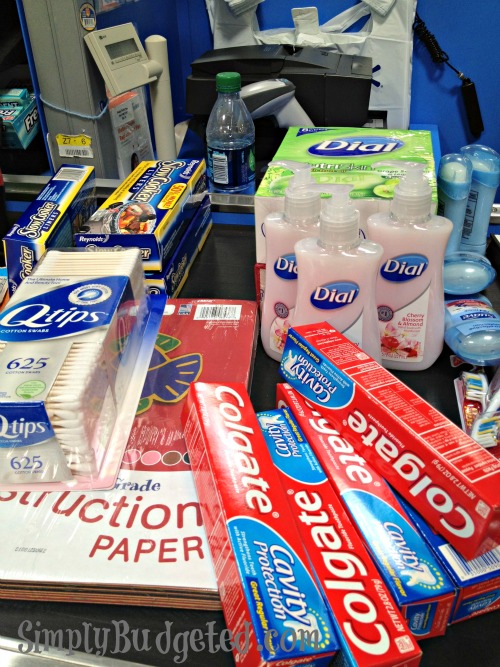 I added our Walmart bags to our full trunk. It had been a long errand day for me and the kids. The kids were perfect that day considering Walmart was our last stop after going to a Children's Consignment Sale (the laundry basket … it isn't dirty clothes, I promise!), Michael's for Girl Scout craft supplies, and then lunch.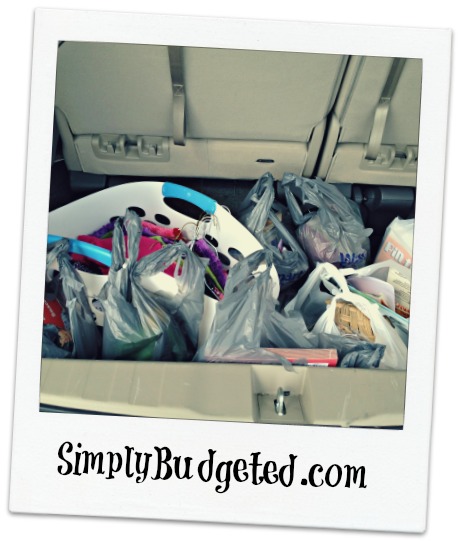 The ride home the girls continued to ask about who would get our donation and when we were taking it to the church to add to the box set up there. Little man faded into a nice nap as the conversation continued and I realized how blessed I am not only with my own family but with the opportunity to share the experience of a simple service project with my kids.
Check out full shopping trip in the Google + Album we shared! Take a minute of your time to like Dial on Facebook and follow them on Twitter to keep up with their latest campaigns and promotions!
Have you participated in a simply service project in your community support Champions for Kids? Leave us a comment and let us know!
NOTE: I am a member of the Collective Bias™ Social Fabric® Community.  This shop has been compensated as part of a social shopper insights study for Collective Bias™ and Dial Soaps  #DialCFK  #CBias #SocialFabric