The girls and I were very excited to attend a Disney Princess Retailtainment event two weekends ago. We even got my sister to come along and dropped little man off with my brother so it was an all girl event! Did you know that some Walmarts host these Retailtainment events? #DisneyPrincessWMT We learned quickly that if kids are dressed up and walking around Walmart that every single person in Walmart will stop to talk to you about your kids. oh my lands! The girls thought the attention was great and laughed for five minutes straight when they heard someone call them twins (They are 15.5 months apart in age so not twins unless you want to claim them as Cinderella twins!)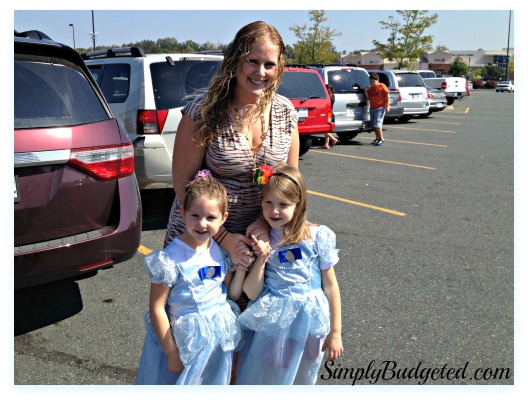 The event wasn't quite what we expected the trip was a lot of fun thanks to the Disney Princess Augmented Reality App that I download days before the trip. You go to the Apple and Android version of this app to download your self! This app is like the Avengers App where you go around the store to find trigger points to unlock features of the app. Here were the three check points we had to find.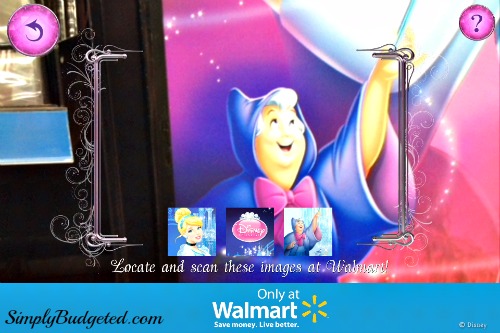 The trigger points are different signs around the store. This display had the Cinderella trigger point. When Grace saw this display, she ran to it. She ran so fast she ended up in my pictures of the display to show the trigger point. Did you know Cinderella has a pink dress? This trigger point unlocked her pink dress!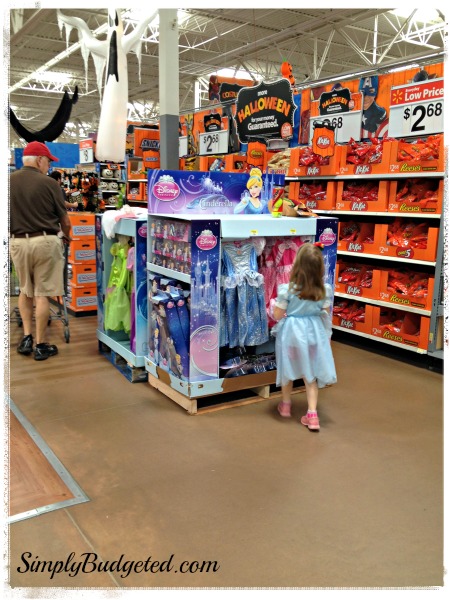 We really after the new version of Cinderella that was just released on Blu-Ray and is sold in a DVD + Blu-Ray combo package! Can you tell Sophie is happy?!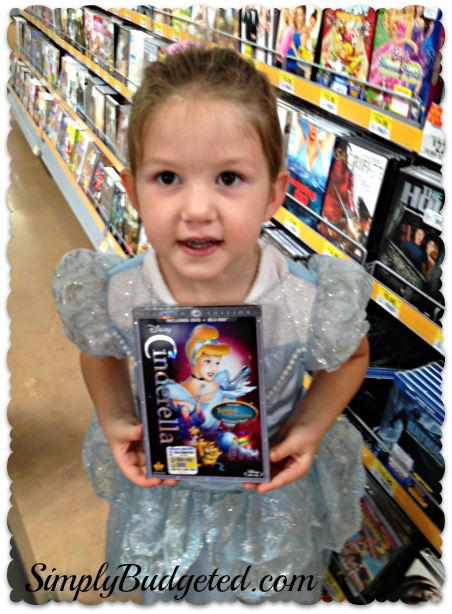 The girls added to their Christmas list when they decided they must have the Cinderella carriage and horse made for a Barbie doll sized Cinderella!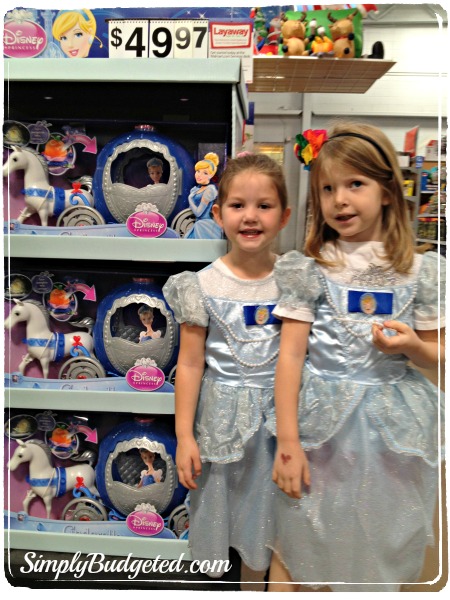 The Retailtainment event was a small cart that had Cinderella cake. The girls also received activity sheets and a pumpkin decorating sheet. The host for the event loved the girls outfits and gave them two of the items from the top of the cake … the Cinderella and the carriage! (They are happily displayed in their room right now!)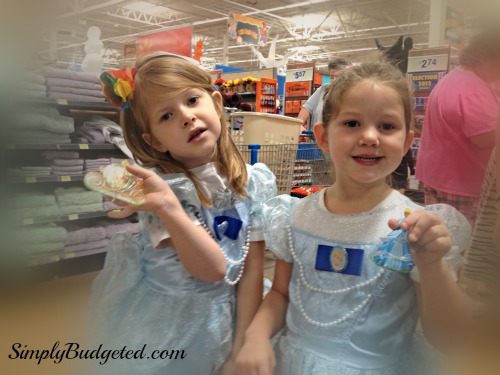 You can check out our full shopping experience in the Google + Album with our shopping pictures!
If you have Princess fans at your house too be sure to check out the Cinderella Facebook page, Disney Princess Facebook page, and Disney Twitter page to keep up with the latest princess news and promotions! You can find Disney Princesses at Walmart and get great tips for Princess Parties, read Cinderella Stories, and even learn more about the Augmented Reality App at Disney Play N' Explore!
NOTE: I am a member of the Collective Bias™ Social Fabric® Community.  This shop has been compensated as part of a social shopper insights study for Collective Bias™ and Disney Consumer Products, Inc. #CBias #SocialFabric