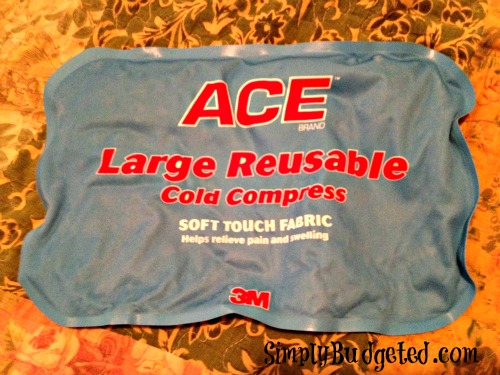 Details …
ACE™ Brand Reusable Cold Compress

•        Soft touch fabric contours to the body and remains flexible when cold

•        Convenient and ready to apply to skin without a cover or wrap

•        Helps relieve pain and swelling fast

•        Ideal for relieving inflammation and joint pain, and increasing circulation

•        No drippy mess from ice cubes

ACE™ Brand Deluxe Ankle Stabilizer

•        Reinforced side stays help provide rigid support and protection

•        Easy sleeve design fits comfortably in shoe

•        Adjustable closures provide custom level of support and fit
My  Thoughts …
As I am getting closer to this half-marathon, I can definitely feel my ankles starting to go.  I have some slight tendinitis going on and that can really hamper those long runs.  One way that I help to speed my recovery is to ice down my ankles and knees afterwards.  The large compress is nice because I can place it over both ankles at once, meaning less down time.
Once the ice down is complete, I still have to be able to keep everything in place when I am busy with weekend activities and chasing kids around the yard.  While I don't wear braces like this on my runs, I find that wearing the ankle stabilizer after I ice everything down really keeps everything aligned well.  Less shifting means less severe injuries and faster recovery, meaning that I can keep up with my training runs later on in the week.
You can find the Ace Reusable Cold Compress, Large
 and ACE Deluxe Ankle Stabilizer
 at Amazon for great prices!