My review of Rudy: My Story By Rudy Ruettiger, with Mark Dagostino …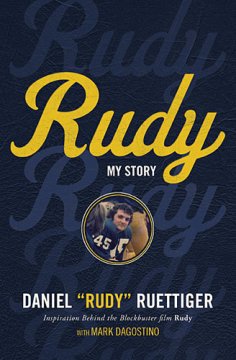 Details …
Rudy became the inspiration for millions when a Hollywood film depicting his journey as a Notre Dame football player became one of the most influential sports movies ever made. In Daniel "Rudy" Ruettiger's only autobiography, go behind the scenes to experience the heartache, triumph, and glory through Rudy's own eyes, and learn details of the ten years it took to get the movie made.

For the first time, the real Rudy shares his story of floundering through school with undiagnosed dyslexia and finding himself mixed up with a rough and rowdy crowd. "Football was my salvation in high school," Rudy believes, and while he dreamed of playing for Notre Dame, he never believed he was smart enough to make it to the elite group of higher education.

A poignant and high-energy storyteller, Rudy details failures and pitfalls along the way. He explains the persistence and determination it took to get accepted to Notre Dame, to suit up and play for twenty-seven glorious seconds, and to see the dream of his movie become a reality. Rudy is truly a real-life testament to the old adage that it is not how many times you get knocked down, but how many times you get up again. He will motivate you to discover your own dreams and to them with unrelenting faith that anything is possible.
Our Thoughts …
I loved the movie!  It came out while I was in high school and I make it a point to watch it every so often.  Very few movies get me teary-eyed, but this one always catches me twice.  Once when he finally receives his acceptance letter and again in the final scenes when the other players all support him dressing and playing in the final game of the season.
This book fills in some of the gaps from the movie, but also really redefines some of the moments.  I just never realized that some of the characters were actually representations of multiple people in Rudy's life or that his family was just so large.  I also never realized just how large a role faith played in Rudy's struggles throughout his life.
I don't want to give away any spoilers, but I will say this:  If you are a fan of the movie and of the story portrayed in the movie, this book will move you and is definitely worth a read.
You can find this book on Amazon for a great price! It could make it great Christmas present for someone in your life!

Did you love the movie or have you read this book? Leave me a comment and let me know!