Moo what? Moo Cards! I love these little business cards. I have been longing for a reason to get them so when we decided to head to the Metro Cooking Show in DC this weekend, that was my opportunity!
Why Moo Cards? I love the color pictures and the unique size. I hope that we can hand out a lot of these cards and you will some great food content coming up on Simply Budgeted as a result of these Moo Cards!
With Moo Cards, you can a different picture on the back of every card printed! I picked my favorite food pictures we have taken and Brian helped me narrow it down these nine!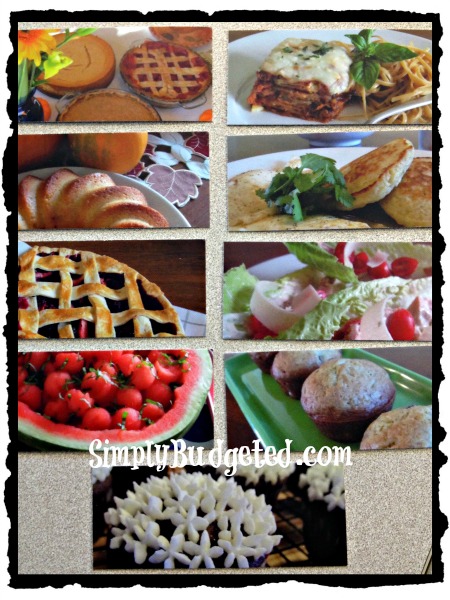 The cupcake is my favorite … what is your favorite?
Oh and this picture show the front of the cards: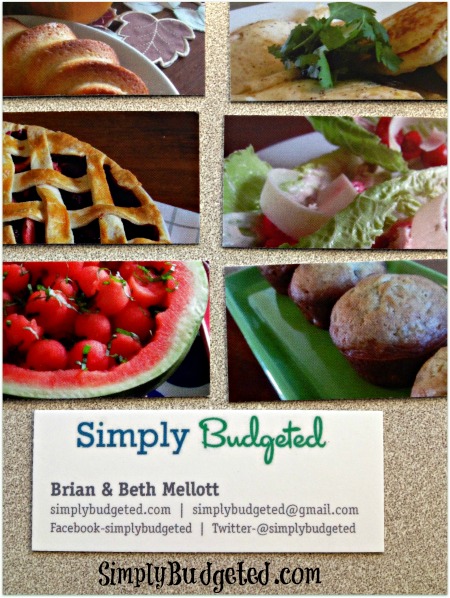 I made a logo using the fonts from our blog and then we added our contact information to the bottom. There was a BIG debate on what went on there but you can see we left off a phone number but added our Facebook ID and the primary Twitter account for Simply Budgeted. I am sure everyone will have a different opinion on what should have been on there but we love the way they look.
The funniest reaction so far was my dad. He says these cards aren't for old people since they are small but honestly the font size on them isn't that different than my traditional business cards. He then tried to fit them all together like they were a puzzle to make a bigger picture. Sorry dad, I wasn't that creative when I laid out the backed of the cards!
What is Friday Favorites?
Friday Favorites is another almost weekly feature here at Simply Budgeted. The whole point of this feature is to share some of our favorite finds. Anything is game. Food. Cleaning supplies. Kid stuff. Garden favorites. Recipes. Anything that I really like and want to randomly post about.

Reminder/Disclaimer/Whatever: Everything in Friday Favorites is something that we use and bought on our own.
What do you think of Moo Cards? Leave me a comment let me know!