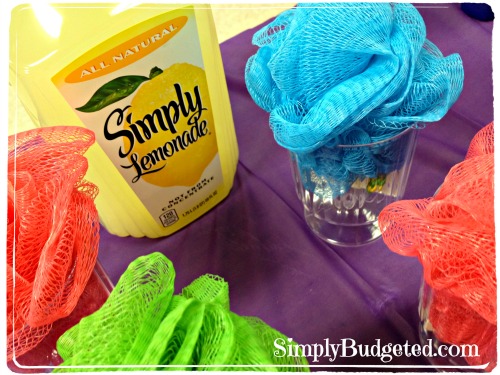 About …
All four varieties of Simply Lemonade and Simply Limeade are made with not-from-concentrate juices and pure ingredients. Available in both multi-serve and single-serve carafes, you can enjoy delicious refreshment throughout the day!
Our Thoughts …
We love Simply Lemonade at our house. OK, we love all of the Simply Orange products but the lemonade is my favorite for sure. I love that we can have it as a treat at dinner some nights or I can buy it for a party as I did for the Spa Party I hosted. Another reason we love Simply Lemonade is that it is a great budget friendly price at Sam's Club every day in the twin pack they sell. I don't have to wait for a sale to get a great price! We can feel fancy (as Grace would say) any day with a sweet and slight tart lemonade drink that we all enjoy!
Here is a budget friendly tip as you travel this holiday season … Grab bottle (or two!) of Simply Lemonade and put it in a cooler in your car. Instead of paying $1-2 per drink when you stop to eat or take bathroom breaks during trip, use refillable cups for you and the kids to add more Simply Lemonade to the cups and keep traveling!
What is Friday Favorites?
Friday Favorites is another almost weekly feature here at Simply Budgeted. The whole point of this feature is to share some of our favorite finds. Anything is game. Food. Cleaning supplies. Kid stuff. Garden favorites. Recipes. Anything that I really like and want to randomly post about.

Reminder/Disclaimer/Whatever: Everything in Friday Favorites is something that we use and bought on our own.
Do you love Simply Lemonade at your house? Leave me a comment let me know!