Is your house ready for baking this holiday season?! We are well under way in the baking season it seems and were excited to start using the Nielsen-Massey Vanillas.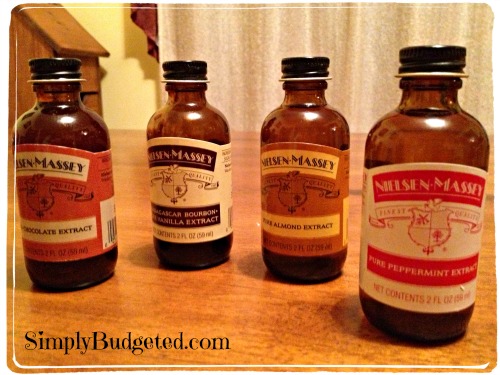 Brian first tried out the Nielsen-Massey Vanilla Extract in his Mini-Pecan Tarts Recipe. He loved the flavored they added. I wasn't up for baking with a cold but I could warm up for sure. The hot chocolate the kids had earlier this evening looked yummy but I wanted real hot chocolate not from a packet so I decided to go a holiday route and came up with a Peppermint Hot Chocolate!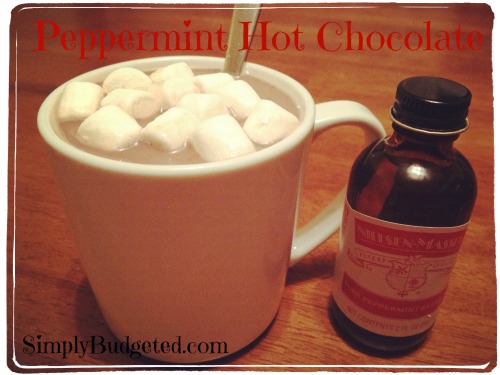 Ingredients
1 cup (8 ounces) 2% milk
3 tbsp chocolate syrup
1 dozen mini marshmallows
1/8 tsp Nielsen-Massey Pure Peppermint Extract
Directions
Combine the milk and chocolate syrup in a microwave safe mug. Microwave on high for one minute. Stir to combine the chocolate and milk. Add Nielsen-Massey Pure Peppermint Extract and stir again. Top with mini marshmallows. Stir to melt marshmallows or enjoy with them still floating there!
What do you think? Are you ready for a yummy, warm hot chocolate drink?
The lovely folks at Nielsen-Massey want to kick your holiday baking off too! They are offering one of our readers a giveaway prize pack that includes: 2 oz Madagascar Bourbon Pure Vanilla Extract, 2 oz Pure Peppermint Extract, 2 oz Pure Chocolate Extract, 2 oz Pure Almond Extract, and A Century of Flavor.