Today Sophie is 5. It is hard believe we have a 6 year old, 5 year old, and 3 year old in our house now! The year that Sophie was born, we had all cards written and waiting for a picture of her to be added. Presents were wrapped … I was worthless but Brian did the decorating and we had a special celebration of a Christmas with a newborn baby! This year, I am not ahead of the game but I am staying on track.
Thankfully, Sophie loves that her birthday is near Christmas. She wanted her picture this morning in front of the Christmas tree. She is the only one that gets to have the Christmas decorations up for her birthday after all.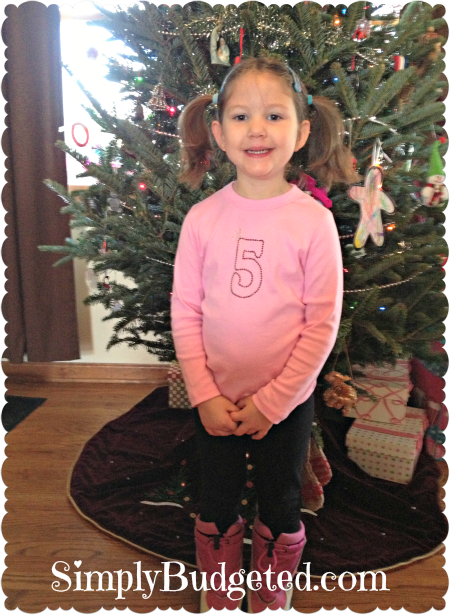 In true Sophie fashion, she wore her snow boots to preschool today with her birthday shirt. I should add that it was 50 degrees outside when we left the house this morning. You gotta love that girl and her fashion … if only I could pull of snow boots just because they are pink and match!
Happy Birthday, Sophie!! We hope you have a very special day!
Feel free to leave her birthday wishes if you want. I read her the ones that you guys left on Facebook last night and she just beamed the biggest smile the whole time I was reading!!