Are you still looking for a great gift for some people on your gift list?! Maybe the categories Gifts by Personality or Gifts for the Animal Love will help you find the perfect gift using the NOVICA Gift Finder!
About NOVICA …
 We want to give artists and artisans around the world a global platform to express their true artistic talents and to spur their creativity. And, we want to provide you with access to unique, hard-to-find items at great values that only the Internet infrastructure can allow.
At the deepest essence of our philosophy, we want to create a bridge between you and the many talented artisans across the globe.
We want you to know about who you're buying from. We want you to feel that attachment to the product and to the hands that created it.
In the spirit of the Internet, let us bring you together.
NOVICA. The World is Your Market.
I love the Amethyst flower necklace, 'Sacred Lilac Lotus'  under the Gifts for Her category.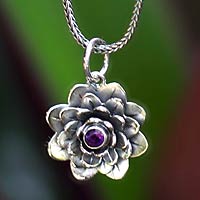 The Cotton circular scarf, 'Fuchsia Infinity' under the Trendsetter category might be a great gift for my sister.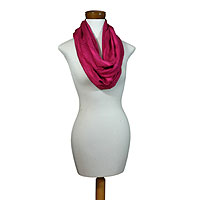 You can find Gifts for Him, the Traveler, or even the Family Gifts! There is certainly a gift for everyone and the Gift Finder can help you find it! I love that I can find everything from apparel, jewelry, home decor, and accessories all in one place … online, where I don't have to drag the kids to store with me! So think about it who is the challenging person on your gift list. Now that you have them in mind … go look at the Gift Finder! What is your favorite product in our Gift Finder?
We are excited to offer a giveaway for a $40 gift code to NOVICA to one of our readers! Note that this giveaway has a short turn around for the holidays!