What exactly happens when your appliance isn't delivered? Dinner plans change. (Background: Brian was blessed to win  new oven at the Mixed Conference thanks to The Fresh 20 that sent him on their behalf.)
Brian borrowed a dolly to move the old oven out the house last night. I spent part of the evening clean the floor (you don't want to know what was under that old oven, I was horrified!) Last night they called and we were given the generous delivery window of 11:30 am – 3:30 pm today. We adjusted plans to for the day so someone was here that whole time slot. At 2:54pm, we received a call that the oven wasn't being delivered today and they didn't know when they would deliver it. It was good that Brian answered that call because he calmly explained they set the date of today and our oven had already been removed. He nicely added that we are hosting a pre-Christmas dinner on Saturday so we needed an oven. They said they would call back. In the mean time … dinner plans had to change!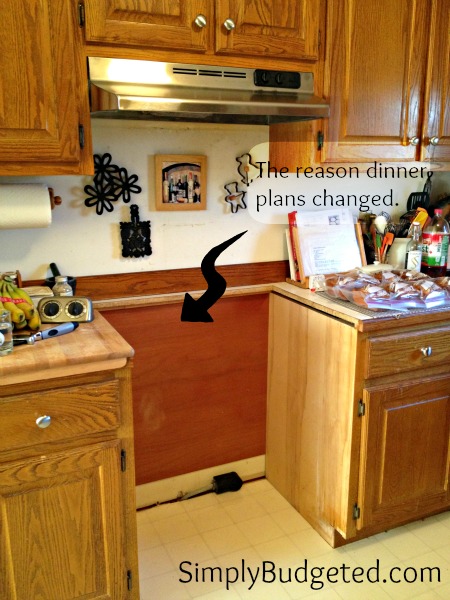 My to-do list tonight included …
Roasting a pumpkin to process for pies and cheesecake
Making Rice Crispy Tree Desserts to give out as gifts/thank yous
Making an apple pie
I am not happy because so much of my list depended on the oven. They called back and said the oven would come tomorrow but didn't give a time. I don't see this working out well as Brian has an errand to run mid-day and I can't cover house watching during that time. I guess we can add being stood up by the appliance delivery guy to our list of what we have done in life …
Hopefully soon we will have a new oven to show off soon. I know this is a blessing …. I keep reminding myself that blessings take time … I just need to get my list done!