You can get your own FREE copy of the new eCookbook "Your Best Recipes" from Eggland's Best Eggs!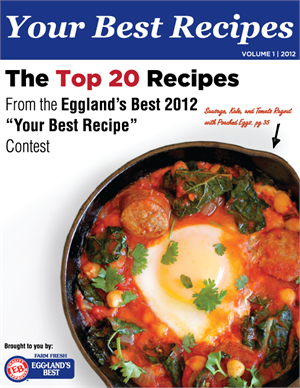 More details about "Your Best Recipes" …
Eggland's Best is excited to announce the launch of our second original eCookbook, "Your Best Recipes" featuring the Top 20 recipes from the first nation-wide Eggland's Best "Your Best Recipe Contest".   These delicious recipes were selected from thousands of entries submitted by at-home chefs and bloggers.  Each recipe highlights a creative way of using EB eggs.
You can download "Your Best Recipes" eCookbook, a $9.99 value, FREE for a limited time. All you have to do is visit the their special promotion page on and like the Eggland's Best Facebook page so you can click download for this eCookbook! This offer is available January 25, 2012 – February 15, 2013.
If you love ebooks and eCookbooks for your favorite eReader or even to read on your computer, this is a great eCookbook to add to your collection. We have been eating a lot of eggs lately so I am looking forward to reading the book to see some new recipe ideas that will maybe be an inspiration for a meal in our February Meal Plan!
NOTE: We were provided with this promotion information from Eggland's Best. Passing this information along to our readers qualifies as an entry in a blogger only giveaway.