What Foods from Chile come to mind? Did you know that Chile  is known for producing top quality wines, olive oils, and fruits?
The terrain of Chile produces a huge diversity of crops!  The various regions offer desert, ocean, and mountain climates.  It is said that "the optimal Chilean Mediterranean climate, with cold rainy winters and hot and dry summers, allows olives to reach optimum maturity and great fruit expression. " (source)  I am excited at the chance to try out some of those olives as well as all of the specialties from the local regions that I'll get to visit.
The Atacama Region is mostly a mining region but its top agriculture product is grapes.  Who knew?  The development of aquaculture is growing in this region, too.  I am looking forward to trying some northern scallops and smoked and salted fish!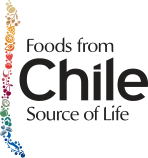 The Coquimbo Region of Chile is a more mountainous region of Chile, which makes it a little more like home here in Virginia where we live on the edge of the Appalachian Mountain Range.  The economy is supported by tourism, agriculture, and fishing!  Maybe I'll get to try some Pisco, a lovely little grape brandy, while I'm there.
The Valparaíso Region of Chile is known for its wine producers!  With over 21 varieties of grapes planted in Chile, you are sure to find a wine that will pair perfectly with your Chilean cuisine!  I wonder which one will be my favorite?  I'll be sure to let you know if I get to go!
Continuing my Foods from Chile journey, I will wind up Mercado Central in Santiago, Chili, one of the world's top food markets.  Descriptions of the market range from food court to fish market plus they have locations to buy souvenirs.  I guess I would have to get a few things for the kids.  I am sure I could easily get lost exploring the food options, sort of like I was at the Reading Terminal Market in Philadelphia!  When I end up in a market environment, I don't even notice that I am wandering around looking at all  at the wonderful cuisines, products for sale, and enjoying the combined aroma of all of the foods cooking at the same time!  I really just completely lose track of time.
Are you ready to try Chilean wine, olive oil, and foods?  I can tell you for certain that I am!  I would love to be part of the Foods from Chile  Guided Culinary Tour of Chile this April!  If I get to go on this adventure, you can be sure that I'll be posting some great recipes for you so that you can go on your own culinary adventure at home.
NOTE: This is my entry for the Foods From Chile Contest. More details can be found here.