The kids have left felt tip marks on the dining room table. Meanwhile, the cats have mistaken your sofa for a scratching post. Maybe it's time for a bit of furniture shopping and, thanks to the early 2013 sales, now could be the perfect time to do it.
The prospect of buying large pieces of furniture can appear daunting no matter how much of a bargain's on offer. Here are some tips to help you choose the right piece of furniture for your home: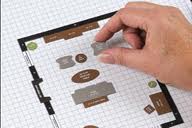 Know what you're looking for
Ever been out looking for a bedside table in the sales only to come home with a mirror and a pot plant? Make sure you know what you want before you go so you don't get sidetracked from your mission. To save agonising for hours over the Nordic-style oak sideboard or a sleek black lacquered version, get a sense of the style of piece you're looking for too.
Measure up
Know the importance of being careful with your measurements. Yes, that large sofa may fit in theory, but if it completely dominates the space, you could end up hating it no matter how much of a bargain it was. One way to get a feel of how it fits before you buy is to cut out pieces of paper from measurements to make a template of the item in question. This will help you get an idea of how much space it takes up and you may be able to try out a few seating arrangements without the heavy lifting.
Choose furniture that works twice as hard
Consider items with extra, hidden storage inside such as coffee tables with shelves or beds with drawers underneath. If your bargain hunting turns up any modular pieces, nab them quickly! These can be moved around to suit your changing lifestyle, giving you furniture that can last for years to come.
Are you sitting comfortably?
Yes, it may well be cheaper to buy large pieces online but, with such a big investment, it's worthwhile to take it for a test drive. This will allow you to assess the colour and quality. If it's a sofa, take another person with you to see what it's like with two people sitting on it.
Flat pack or ready-made…
…that depends on your capabilities with the electric screwdriver. Flat pack furniture may take an afternoon to put together, but it can be much cheaper. Plus, you're usually able to take it away straight from the shop. But if you know that putting up wardrobes with your nearest and dearest is the fastest way to start a huge row, ready-assembled could be for the best.
Essential checks
Whether you've saved up or taken out a loan to cover the initial outlay, buying large pieces of furniture – even if they're on sale – is still a major expense. The process requires some careful consideration, and it pays to double-check the quality of the service you're receiving. While you're in the shop, ask about details such as guarantees and delivery times; with many people buying sofas in early 2013 you may be waiting longer than you'd planned.
If you're buying anything wooden like a chest of drawers, make sure you open up one of the drawers to check how they're hanging and to look at the quality of the wood inside- a real giveaway. With sofas, ask whether they're made of hardwood or soft (hardwood is better) and actually pick up a sofa cushion as normally the heavier they are, the better the quality.
This guest post was written on behalf of Money Matters, the Sainsbury's Bank blog. The views expressed in this post are those of the author and not of Sainsbury's Bank. Though it may include tips and information, it does not constitute advice and should not be used as a basis for any financial decisions. Sainsbury's Bank accepts no responsibility for the opinions and views of external contributors and the content of external websites included within this post. All information in this post was correct at date of publication.