Do you remember our Great Value Thanksgiving goodies and Great Value Christmas goodies?  Well, we are back with some great Valentine's creations using Great Value cookie and pastry dough.  I am helping Sophie's preschool class for Valentine's Day this year, so I wanted to try out a couple of things using Great Value cookie doughs.  Some of them worked out better than others.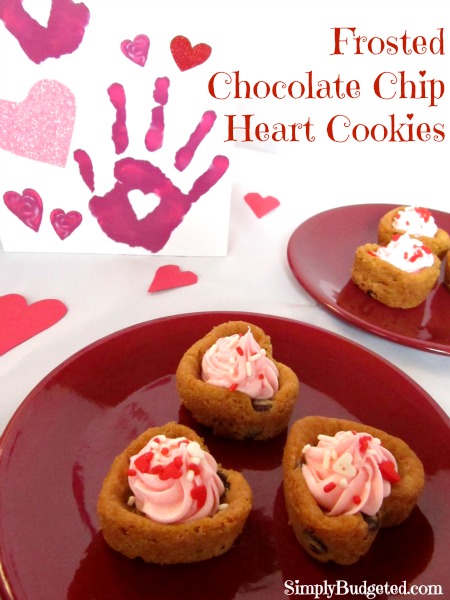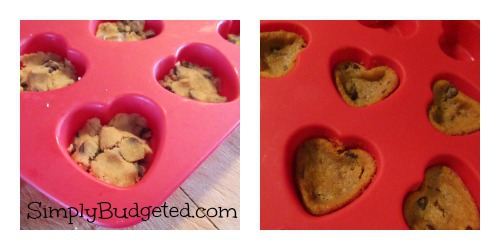 Frosted Chocolate Chip Heart Cookies
In the end, I decided to go simple.  Using a silicone petite heart pan, I filled the molds up about halfway.  I baked them according to package directions for 14 minutes and then allowed them to cool completely before removing them from the molds.  I simply filled the depression with pink vanilla flavored cake frosting and topped with sprinkles.  Easy, right?  They turned out ridiculously cute and my little testers really loved them.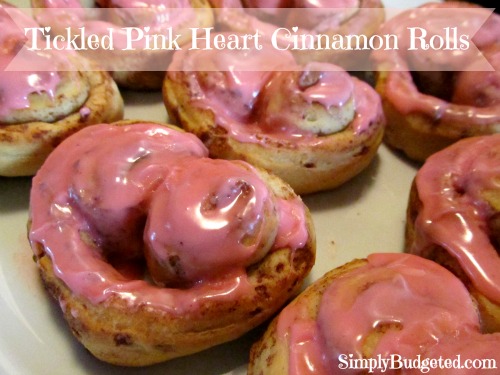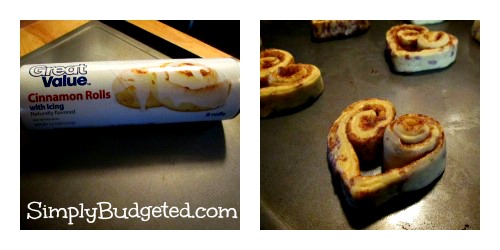 Tickled Pink Heart Cinnamon Rolls
One of the nice things about holidays with kids is that you can easily make the holiday go all day long.  Not only do they get school parties and the opportunity for cards, flowers, etc. at home in the evening, we can also have a special breakfast for them.  Great Value cinnamon rolls can be easily unrolled and then re-rolled into the shape of a heart.  You wind up with them about half-rolled on each side.  When you pinch the middle, you have a beautiful little cinnamon heart.  We up the Valentine's Day ante by adding a little red food coloring to the icing included in the package.  When we tested it with our kids with the pink icing and the heart shape…well, let's just say that I didn't get to eat much breakfast that morning!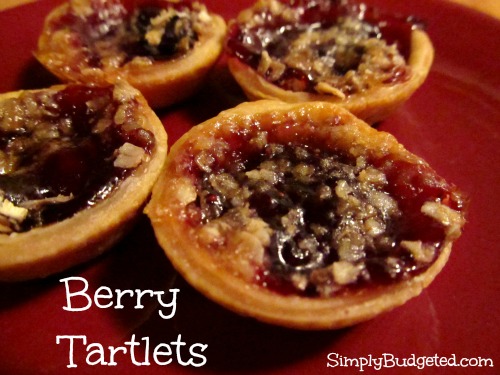 Great Value Berry Tartlets
Heart shaped cookies and cinnamon rolls may be great for the kids (or for sneaking after they've gone to bed!), but what if you are having an office party?  You need something that hints at Valentine's Day, but that isn't to childish.  These Berry Tartlets have the right color for the holiday and they have that lovely berry taste that you expect in a Valentine's treat for adults.
Ingredients
2 Great Value refrigerated Pie Crusts (one package)
1 can of pie filling (We used mixed berry)
1/2 cup of  oatmeal (quick oatmeal is fine)
1/2 brown sugar packed
1/4 cup butter
Directions
Preheat the oven to 350 degrees.
Let the refrigerated pie dough warm up by leaving on the counter for 30 minutes. Unroll the pie dough and spray it with a cooking spray with flour. You can make muffin size tartlets or mini-muffin size tartlets. Use a circle cookie cutter (or a glass) that is the same size as the top of the muffin pan hole to cut circles. Cut the circles out of the pie dough. The closer the circles are together the more you will get out of the pie dough!  Put the circles in the muffin tins with the sprayed side down. Scoop a small spoon full of the pie filling into each dough circle. (For the mini-muffins this was only 1-3 berries!)
Mix the oatmeal, brown sugar, and butter together in a small bowl using a pastry blender or a fork. You will have clumps of butter but that is ok.  Put a small spoon full of the crumb topping on top of each tartlet.
Bake the mini-muffin size tarlets for 22-25 minutes and the muffin size tarlets for 25-30 minutes. Let them cool complete in the pan before trying to remove them from the pans.
For more great holiday recipes and budget friendly ideas, make sure you check out Great Value on Twitter:  #GreatValue
What are some great dishes that you've make using Great Value or other store brand refrigerated dough?  Leave us a comment and let us know!