If you haven't already heard, I recently won the "Next Top Blogger" contest sponsored by Foods from Chile.  I cannot even begin to express how excited I am at the amazing opportunity to experience Chile and to share my experiences here with you.  Before signing up for this contest, I didn't always pay attention to the origin of my produce.  Sure, I want my kids to know that their food comes from the ground and that we can use raw ingredients to make all of the dishes that they love, but I'm not looking to teach a geography lesson to my 6-year-old every time we go shopping.  Now, though, I am looking at the labels more.  If you look on the bottom right of this carton of blueberries, you can clearly see that they are from Chile.  I picked these up at a Walmart in central Virginia.  I've also picked up grapes from Chile at our local Sam's Club.  I'm curious to shop around and see what other foods from Chile I can find in our area.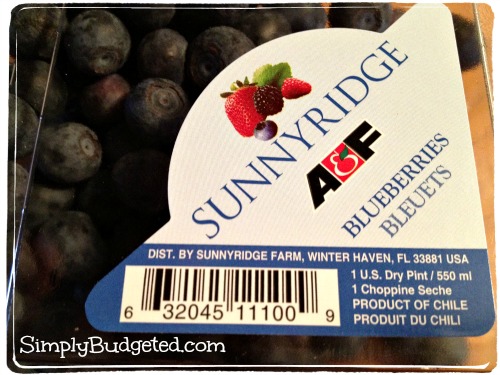 While the blog post seemed an appropriate enough entry, one big part of this contest was to submit a video explaining why I am the best fit for this trip.  Blogging is one thing.  To research a topic and present that information in writing in a way that is easy enough to read for most people is pretty easy for me at this point.  There is a reason, though, that I have avoided vlogging.  It seems like such a huge production.  Is the lighting right?  Do I have the script memorized?  Is the script appropriate?  In this case, time was a big factor!  Was my video under a minute?  With my preschoolers running around, when would I even have the time to shoot?  Do even get me started on editing the darned thing.
Thank goodness for my Beth.  She helped with ideas for my script, held the iPhone steady for way too many takes, and put up with my crazy obsessiveness over lighting, stammers, and even the shirt I ended up wearing.  Were it not for her help with editing, I would be a much crazier man!  She helped shave down 10 seconds on a video in which I hardly pause for a breath.  If you aren't looking closely, you'll hardly notice the cut in the middle.
So, are you ready to see my winning video?  Here goes:
So what did you think?  Should I keep working on videos?  We would love to get your comments.