We are excited to share a sponsored shop about Bigelow Tea!
I headed to Walmart to shop for our Chinese Tea Eggs project and the Girl Scout Birthday Box Project.
Here is the tea display at our local Walmart. It honestly quite small and was really low on stock the day I went to shop. I was  hoping to try another new variety of tea that day but the selection was really limited. I did buy the Bigelow Tea Constant Comment and Assorted Herb Tea boxes though!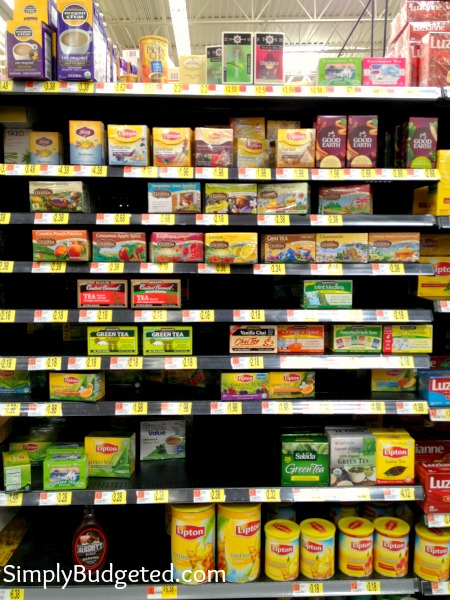 We decided to try the Pomegranate Pizzazz and Orange & Spice Herb Tea varieties for the Chinese Tea Eggs. These teas are beautiful colors when you brew a cup of them. I really love the Pomegranate Pizzazz Herb Tea by Bigelow Tea as it has a nice fresh fruity taste to it!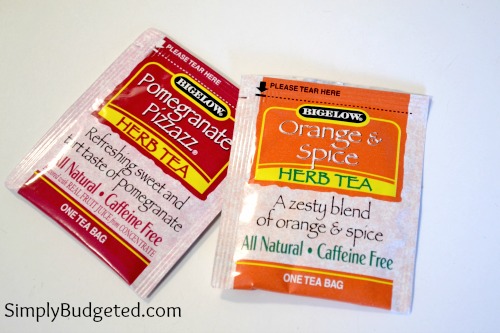 If you check out the Google + Album you can see the full process for the Chinese Tea Eggs. You boil the eggs to get hard boiled eggs and cool them. Here is the part that seems wrong, you crack the eggs but don't take the shells off! Then you put the eggs in water with the tea bags and bring the water to a boil. Once the water is boiling, turn it down to a low simmer. We simmered the eggs for an hour before we cooled them and then peeled them. We learned a few lessons that we will share. First, you need to crack the heck out the eggs. We didn't crack them as much as we should have … as I said, it just seemed so wrong! We also realized we should have added more tea bags for more color on the eggs. And finally, we think we should have simmered the eggs longer.
I don't know we are ready to replace our Easter eggs with Chinese Tea Eggs but I love the idea of using natural Bigelow Teas to dye eggs so we will keep working towards perfecting this!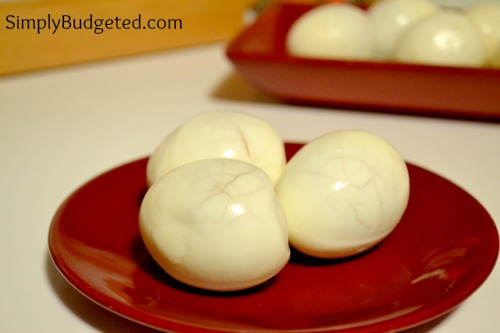 Some times you just need a cup of tea. As part of this shop, I was excited to learn more about Bigelow Tea's Constant Comment blended tea. This is a unique hand blended tea at Bigelow Tea. I love the orange flavor to this tea. It is a new favorite for me for sure!
Check out that tea bag. What do you notice? I notice no staples!!! I love to compost my tea bags as it adds a nice balance to the compost bin but so many tea bags have staples in them. The Bigelow Tea bags don't and are perfect to be added your compost bin … after you use them that is … because who could pass up a cup of tea?!
What is your favorite variety of tea? Have you ever tried to make Chinese Tea Eggs? Leave us a comment and let us know.
NOTE: I am a member of the Collective Bias® Social Fabric® Community.  This shop has been compensated as part of a social shopper insights study for Collective Bias® and Bigelow Tea #CBias #SocialFabric #AmericasTea