Home security: something we all long for and will do what we can to achieve. Having reliable home security is so important to make sure your loved ones are safe and cared for. For the benefit of our home, our possessions and our family, safety and security are constant focuses. To ensure a high-level of safety is attained, invest in a home security system as one of your first steps. There are a number of things to consider about purchasing and installing a security system, here are 4 of them:
A Home Security System Monitors Your Home
It sounds pretty basic, but a home security system does just what we think it does, but on a much more innovative and wider scale than you might have originally thought. Yes, security systems are also monitors for the activity going on in and around your home, but the advent of wireless technology has made this feature so much more convenient for users.
With wireless technology, users are able to control with their alarm system more than ever before. Now you can use your mobile device to connect to your home system and perform operations remotely. With wireless technology, users can set an alarm, provide individualized key codes to expected visitors and even view what is happening at their home (with camera systems), all with the touch of a couple of buttons.
A Home Security System Detects Danger
More than just for intruders, a monitor is a home security system that detects other dangers such as smoke, fire, water levels in the home and a number of additional hazards. For example, carbon monoxide, an odorless and potentially fatal gas, would normally go undetected in a home. With a device to assist you to the presence of this gas, you will know of the dangers and potency before it becomes too alarming. A number of home security companies also offer an identity protection service, pet protection and medical alert systems and panic buttons.
A Home Security System Deters Criminals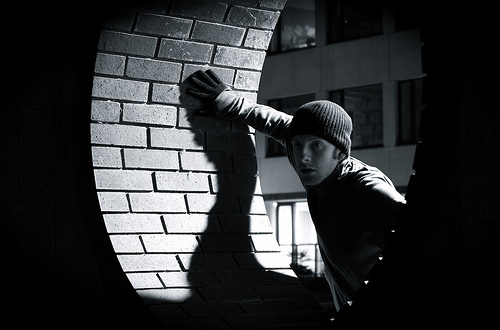 Image via Flickr by *saxon*
If your home looks like an easy mark, there is a higher chance that you'll experience a home invasion. If your home looks secure to the outside, it'll work to actually be more secure. After all, intruders are not likely to hatch out a plan and spend a lot of time formulating what their steps will be. When installing a home security system, opt to get a sign placed in the front yard or a sticker for the windows around your home. Why would someone break into a home with an alarm warning sign when they could just go to the home next door without one?
Home security systems contribute to your safety in big ways. Given the benefits and lower cost of having such a system, there isn't a reason to avoid installing one of these devices. Directly contribute to the safety of your family and consider purchasing a security system for your home as soon as possible.