I am excited to provide a review of the BakeStack from YouCopia!
Details …
The BakeStack® is the only in-cabinet organizer for baking tools and accessories. Save valuable pantry and drawer space by storing sprinkles, icing, candles, cake tips, cookie cutters and more in three customizable drawers. The BakeStack includes 18 easy-fit drawer dividers that provide hundreds of possible drawer configurations. It's also great for organizing arts and crafts, scrapbooking, sewing and office supplies.
Store and organize your baking tools and accessories

Fits standard cabinets, measures 10.9"D x 8.1"W x 8.8"H (27,7 x 20,5 x 22,2 centimeters)

Includes 18 drawer dividers; 3 vertical, 6 small horizontal, 3 each medium, large and x-large horizontal

Includes 18 blank removable stickers for labeling the outside drawers

Multiple units can be stacked on top of each other

Non-skid feet hold unit securely in place

No assembly required but build customizable drawers as you wish
My Thoughts …
First things first, I made sure the BakeStack would fit in our cupboards and it did! So I pulled out the two boxes of baking items I had in the cupboard. It was a lot of stuff.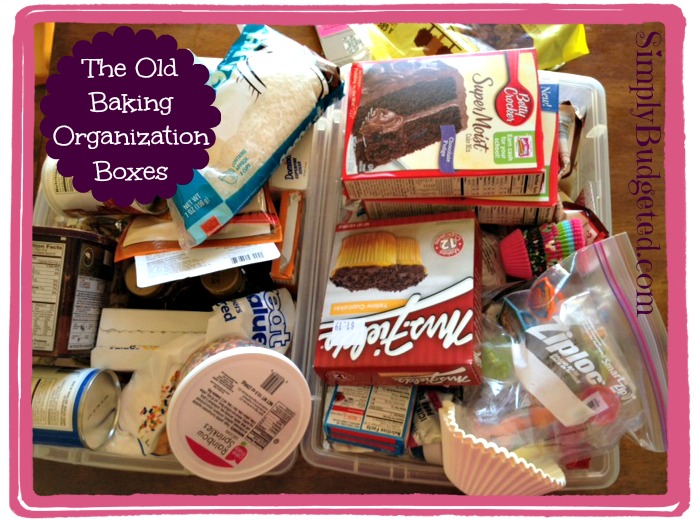 I admit I sorted through it all as I lost track of what was even in these boxes! I did put one box back in the cupboard with the cocoa powder, baking powder, baking soda, etc. in it. Plus I put this back in the cupboard …
TA-DA!!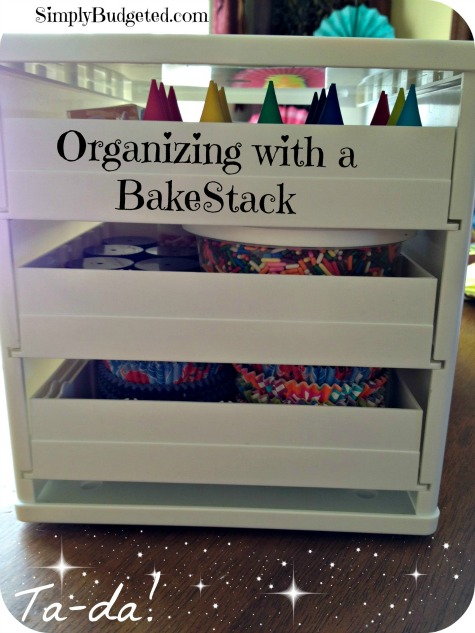 Apparently, I really did lose track of what I had. I had no idea I had a stash of food dye before I bought more for Math & Science night at Grace's school. Now I know! I have a thing for buying cupcake liners. They are so pretty and inexpensive so I never feel guilty getting a package when I see cute designs. Other people give them to me too. I apparently need to bake WAY MORE muffins and cupcakes though as I filled a whole drawer with cupcake liners. Yes, I am slightly embarrassed over that. My one critique of the BakeStack is there was no way to store the extra pieces. I knew if I didn't leave them near the BakeStack that they would get lost. So I put them together in the bottom drawer.

I hope that as use up my food dye and cupcake liners and to re-arrange the BakeStack. I love that I can rearrange it. When I knock the cake decorating classes off my bucket list, I am sure I will need rearrange it for sure!
What does your baking stash look like? Could you use organizing help from a BakeStack? Leave a comment and let me know!