One of the hardest things for us to do for dinner in our house is to add green to any food.  We regularly have to hear complaints about not liking "green stuff".  It's actually kind of funny since they will gladly eat raw broccoli, cauliflower, carrots, etc. dipped in ranch dressing.  We know they like veggies.  Put them into the dishes, though, and, apparently, it's just not acceptable.
Still, I'm not one to run from challenges or to "sneak" veggies into a dish without the kids knowing about it.  Thankfully, I know that the kids love everything about lasagna.  It's an easy way to introduce some of that stuff that they complain about into something that I know they'll eat.  I took a jarred sauce and added some cooked beef and mushrooms to it.  Nothing to jump out of your socks about there.  I took the typical ricotta cheese mixture and added about 8 oz. of frozen spinach, thawed and squeezed of all of the extra water.  Again, not really any extra work here.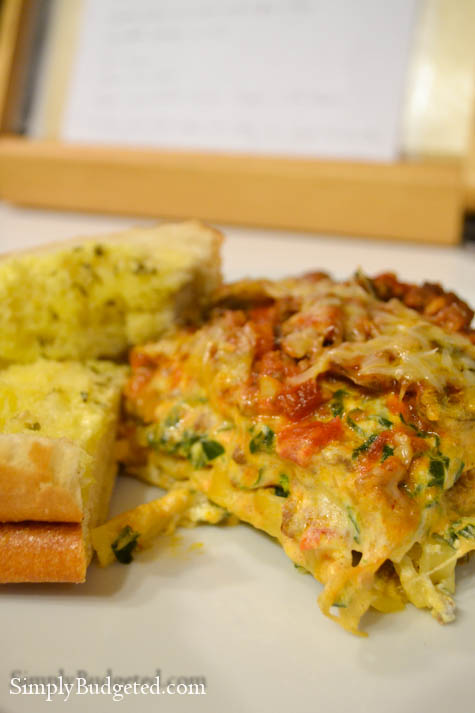 Did the kids fuss about the green?  Of course they did!!  I had them try one bite, though.  When they couldn't even taste that there was spinach in there, they proceeded to gobble up the rest of it.  I'm trying hard to get them to understand that liking the taste of each individual ingredient is far less important than liking the taste of the final product.  I'm not a big fan of cooked carrots, but to give a stew, tomato sauce, or any number of other dishes great flavor, I might have to cook down some carrots as part of it.  What matters most is how it tastes in the end.
As a bonus tip:  if you want that beautifully perfect, clean cut serving of lasagna, all you have to do is have a little patience.  Wait about 15-20 minutes after the lasagna comes out of the oven.  It'll still be plenty warm to eat, but the sauce will have cooled down just enough to let it set and not run all over.  Take the time to finish your bread, make a quick side salad, set the table, or even finish up the dishes from prepping the lasagna.  If all else fails, have a glass of wine and admire your handiwork!  Enjoy!
What are your favorite tips for adding more veggies into your kids diets?  Do you sneak them in or hide them in plain sight?