I participated in a campaign on behalf of Mom Central Consulting (#MC) for Sprint. I received a product sample to facilitate my review and to thank me for participating.
This year, I am working as a Sprint Ambassador, trying out new products and reviewing them here on Simply Budgeted.  Like most people I know, I don't go anywhere without my phone.  This can be particularly challenging during the summer months when I'm carting kids around to pools, beaches, and other summer activities.  With the Kyocera Hydro Vibe waterproof 4G LTE smartphone from Sprint, I don't have to worry so much about what's going to happen to my phone.  I can focus more on having fun in those special moments with the kids.
Since I use my phone for business, I'm always a little paranoid about losing it.  One of my fears is leaving my phone in the pocket of my swimsuit as I chase the kids into the water.  Imagine heading to the beach with the kids for the day.  Everything is set, suits on, umbrellas up, sunscreen slathered all exposed skin, and kids just chomping at the bit.  Excitement fills the air.  You finally move to run with them into the water, but have to stop short as you check for your phone.  The phone is safe, but the moment missed.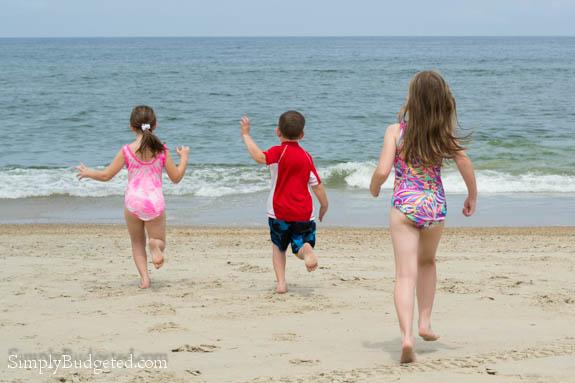 The Kyocera Hydro Vibe is waterproof up to 1 meter (about 3 feet) for up to 30 minutes.  That means that you can  be part of that moment and worry about your phone later.  In addition to our time at the beach, we tested the phone while we were on vacation with my parents.  We put the phone down to about 2.5 feet for about 10 minutes.  You would never know that the thing had been under!
Here's what we liked about the phone and the features that we weren't so thrilled about:
Pros:
The long battery life lets me keep up with email and social accounts (and maybe the occasional game) all day long.
The phone fits perfectly in my hand and in my pocket and is light enough to carry around easily.
It's waterproof!  Up to 1 meter for 30 minutes, but waterproof!!  The touchscreen is also impact resistant.  In other words, this phone is tough.  This keeps me from having to be so concerned with my pockets while out and about with the kids.
At only $30 (with a contract), this phone is very affordable!
Cons:
The picture quality is lacking.  Even in great light, pictures are blurry and hazy.
I expected a waterproof phone to be able to function while in the water.  Wrong expectation.  When you pull the phone from the water and wipe it off, it works as if nothing ever happened, but don't try to take any underwater photos.
Overall:
The Kyocera Hyrdo Vibe 4G LTE smart phone is a great inexpensive phone that can take the sort of abuse that an active lifestyle demands.  If you are looking to take incredible photos with your phone, this isn't the one for you.  If, on the other hand, you are trying to keep up with kids and simply want to make phone calls, text, and stream data, this phone is worth a look.  With the price tag, this is the sort of phone that we'll be looking to get our daughter when she gets old enough to have one.
What kind of torture do you put your phone through?  Has your phone ever had a "water accident"?  Leave us a comment and share your story.