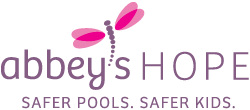 We are honored to feature a reminder of pool safety thanks to details provided to us by Abbey's Hope Foundation. Summer time is here and kids all over are jumping into pools on the super hot summer days. But as you read this, we are reminded that not all children jump back out of those pools. It is a sad fact that we often over look water safety as our kids out even if we know that we shouldn't. We hope you take a minute to read about the cause that Abbey's Hope supports and make a pledge to make water safety a priority for you and your family this summer!
It won't happen to us … or can it?
Most people are surprised to hear that drowning is second only to car crashes as the leading cause of unintentional death and injury among children ages 1 to 14 years old. Each year approximately 830 children die as a result of unintentional drowning. That is nearly 3 child deaths each and every day of the year. Injury numbers are no better. Each year approximately 3,600 non-fatal injuries occur to children 14 years old and under due to near-drowning incidents. Home swimming pools and spas are the most common site for drowning. Open bodies of water like lakes, rivers and streams are where most of the other drowning happens.
Mission of Abbey's Hope …
Six year-old Abbey Taylor's hope was that no child should ever suffer like she did as the result of an improperly maintained pool. In her name, the Foundation will work tirelessly toward a world with safer pools by providing education and advocating for comprehensive safety standards for all pools. You can find the full story HERE.
Become a Water Watchdog …
Watch the water like lives are at stake (They are.)
Children can drown in seconds. Yes, even in pools where lifeguards are present. That's why we've designed the Water Watchdog Program, with Water Watchdog Tags. The idea is simple. One adult wears the Watchdog Tags, and follows the rules below. When the designated Water Watchdog needs to take a break, he or she hands off the tags, and the responsibility, to another adult. Find out how to sign-up to be a Water Watchdog HERE.
Do you have a pool or take your kids to the pool? Check out the pool safety tips that Abbey's Hope has put together!
You can connect with Abbey's Hope on their website, Facebook, and Twitter.
We hope that you are thinking about water safety as we enter this super hot summer season!