On Sunday, we were done with the detox so that meant that flour was back in the diet. That meant I was baking. I had missed baking! A co-worker gave me a Vegan Chocolate Cupcake recipe that she loved. Chocolate meant it was good enough for me but the fact she endorsed it meant it had to be good as she loves to bake even more than I do!
Just making cupcakes wasn't enough. I ended up playing with the star tip to make little flowers on the top of the cupcakes. It took forever. Some people pay for therapy … some people bake. I bake. The added bonus to this decorating technique was that it used only HALF of the icing that the recipe made!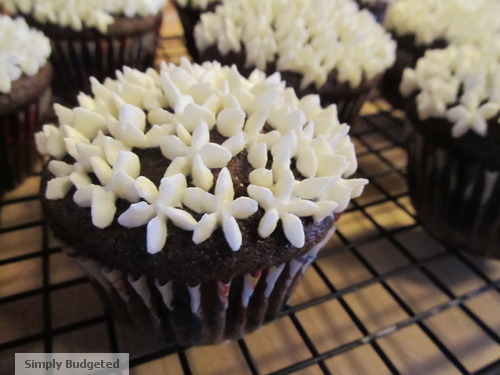 The kids ate these cupcakes up like crazy. They loved them as much as I did. We are out. I think I need to make more or decide what other vegan baking recipe to try next. Decisions!
Would you try a vegan cupcake if it looked that yummy? (Oh, and a promise it tasted good!) Leave me a comment and let me know!