We had such a great response to our Zucchini Tacos last week (if you missed it, find it here) that we decided to go all in and offer up another recipe this week so that you all can use up those mountains of zucchini.  We get ours from our local CSA at Liberty Mills Farm.
In this variation on the classic parmigiana, we use zucchini that has been fried and layered in a casserole dish with tomato sauce and covered with mozzarella  cheese.  It is served with a side of whole wheat pasta dressed in olive oil and basil.  It takes a little time, but is so easy and so good!  As a bonus, all three of our little ones (even our 2-year old) ate this up like nobody's business.  If that's not a selling point, I don't know what is!
For more information on why you should participate in the Meatless Monday movement, click here.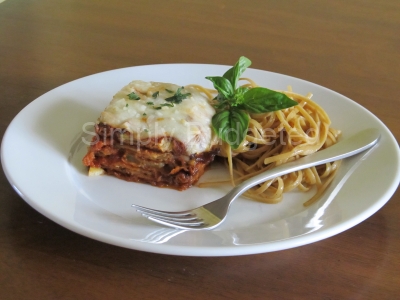 Layered Zucchini Parmigiana
Ingredients
3-4 large zucchini
3 C all-purpose flour
3 eggs
3 C seasoned bread crumbs
salt and pepper
water
oil for frying
1 large jar pasta sauce
Directions
Preheat oven to 350.
Cut ends off of zucchini and cut zucchini into 3-4 inch sections.  Using a mandoline, slice the zucchini lengthways very thinly and set aside.
Prepare a breading station.  Pour flour into one long, shallow bowl or casserole, season liberally with salt and pepper.  Mix eggs into a second long, shallow bowl or casserole.  Add a touch of water and season with salt and pepper.  Lastly, pour bread crumbs into a third long, shallow bowl or casserole.
Heat 1/2 inch of oil in a heavy pan over medium to medium-high heat.  Prepare a casserole dish by laying down a thin layer of pasta sauce.
Coat zucchini 3 or 4 at a time in flour.  Dusting off the flour, coat in egg wash, then move to bread crumbs.  Coat thoroughly and dust off before placing carefully in the hot oil.  Let fry 2-3 minutes on each side.  Remove from oil to paper towel.  Place into casserole dish. Repeat.  Fill up bottom of dish with fried zucchini, then lay down a thin layer of sauce.  Continue until you have run out of zucchini or room in the casserole.  Cover with mozzarella and place into preheated oven for 15-20 minutes or until cheese is melted.  Let rest for 10 minutes before serving.
Note:  You will find a bit of a system here.  I would do about three at a time.  I would put 3 in the oil and ready the next batch.  When the next batch went in, it was time to flip the old batch, by the time I prepared the next batch, it was time to remove one batch and flip the other.  It was constant, but pretty simple work.