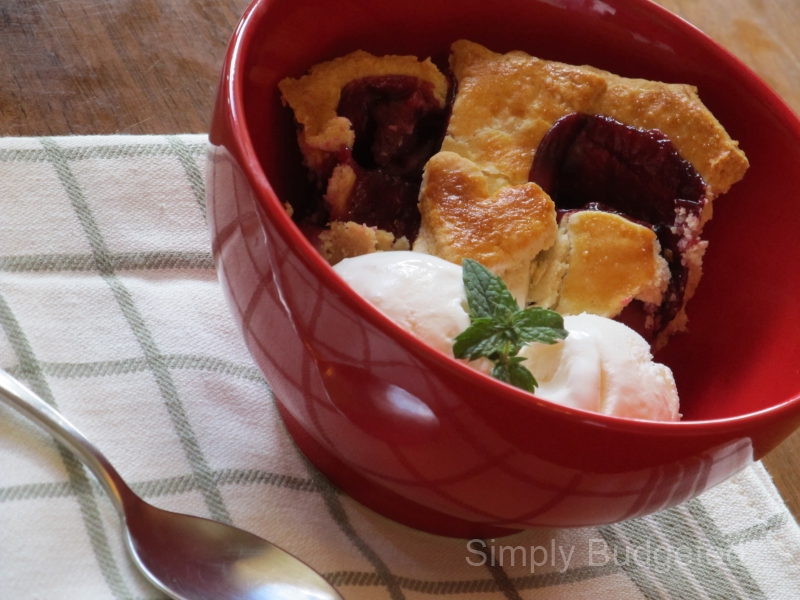 It's that time of year when fresh peaches and berries are abundant.  You can find them in your supermarket or at your local farm or farmer's market.  We got ours from Grelen Nursery in Somerset, VA (a farm about 30 minutes from us) and made this beautiful cobbler that we just had to share.
This recipe is ridiculously easy and very flexible.  The juices from the fruit do most of the work.  Some sugar to enhance the sweetness, some seasoning to bring out the flavors, and a little flour to hold it together are all it takes.  If you like your filling a little tighter, add more flour; runnier, add less.  If your fruit is really sweet (or if you like that special tartness) add less sugar.  You can substitutes nectarines or plums and get a very similar result.
Sometimes making pie crust from scratch is a nice touch, but mine never come out just right and I wind up creating an even bigger mess that I just don't have the time to clean up.  This recipe uses boxed pie crust mix to make things just a little easier and save you a bit of time.
(Note:  Because we used a bigger casserole dish for this, we had to use two boxes of "2 crust" pie mix.  Plan on having more than you think you need.)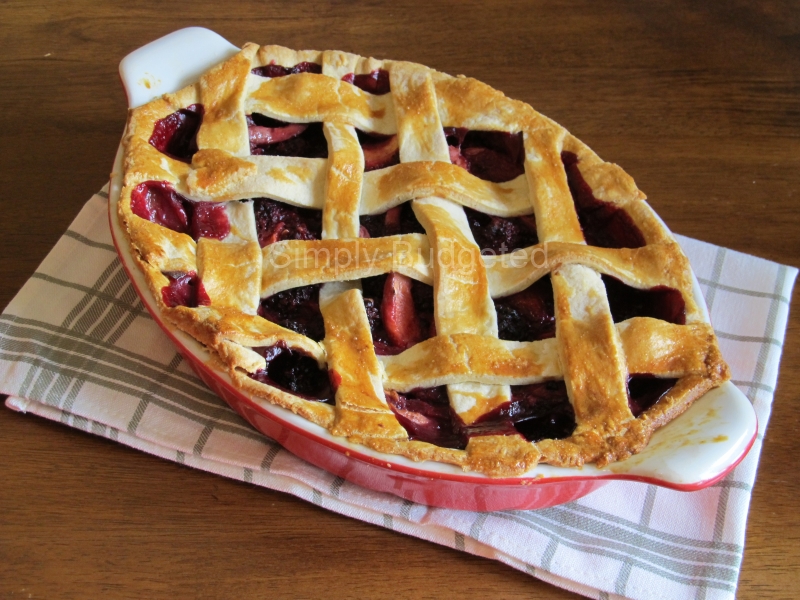 Peach and Blackberry Cobbler

Ingredients
Prepared pie crusts
1 C white sugar
6 T all-purpose flour
2 t cinnamon
1 t salt
7-8 small peaches, sliced
2 pints blackberries
1 egg, beaten with a touch of water
Directions
Preheat oven to 425.
Roll out crust large enough to line a two-quart casserole (or whatever baking vessel you choose) with lower crust.  Slice upper crust into one-inch strips.
Combine next six ingredients (through blackberries) into a large mixing bowl.  Toss gently, coating fruit well.  Pour into lower crust.  Arrange strips into lattice design over the fruit mixture.  Pinch edges together with a bit of water.  Brush egg mixture over crust.
Bake at 425 for 20 minutes.  Reduce heat the 375 and bake for 45 minutes or until crust is golden brown and filling is bubbling.  Cool for 1 hour before serving with vanilla ice cream.

"Come join Love the Pie with TidyMom  sponsored by Whirlpool and enter to win a new Whirlpool Range"