Friday Favorites is another almost weekly feature here at Simply Budgeted. The whole point of this feature is to share some of our favorite finds. Anything is game. Food. Cleaning supplies. Kid stuff. Garden favorites. Recipes. Anything that I really like and want to randomly post about. Reminder/Disclaimer/Whatever: Everything in Friday Favorites is something that we use and bought on our own.
Up this week …
Banana Roll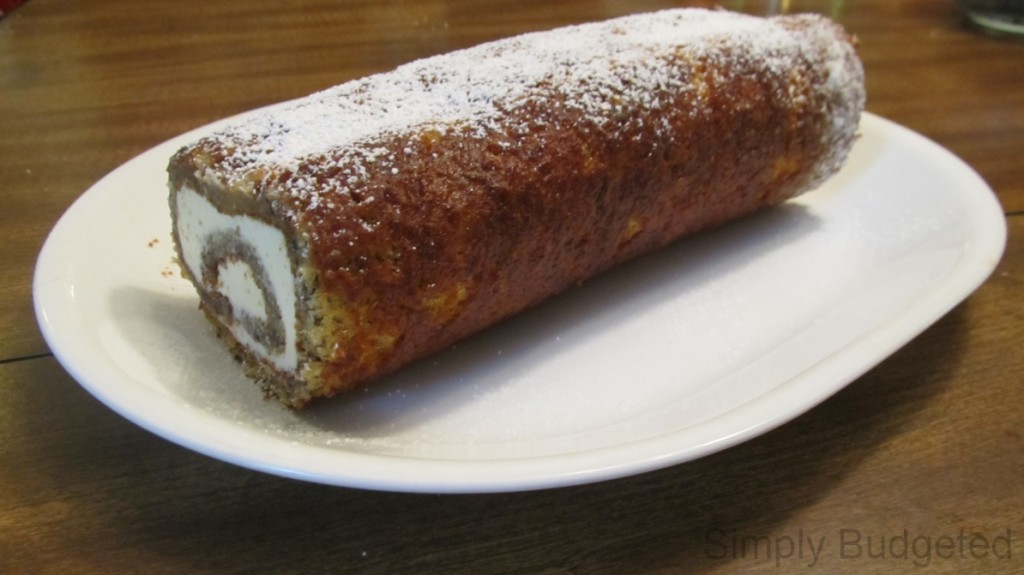 I have a serious addiction to making banana bread. We never seem to finish a bunch of bananas and I refuse to throw the last one or two away. So I make banana bread or muffins … a lot. Brian doesn't even like banana stuff that much. Thankfully, I produced so much banana bread my kids love it so they help consume it all. Well one day while driving (all good thoughts come while driving, don't they), I was thinking about the carrott roll I had bought. It was yummy. Then I started thinking about banana bread and how I had bad bananas on my counter that day. Suddenly, I thought banana roll. I figured there had to be a way.
I looked up banana roll online and found two options. Option 1: Take a pumpkin roll recipe and exchange banana for pumpkin and remove spices. Simple enough. Option 2: Use the banana roll recipe from Pinch My Salt. I was going to use Option 1 but Brian thought Option 2 would be fluffier so I ended up going with that one. OMG was it good. I made two of them following her recipe. These are my two big banana roll … well anything rolled tips that I received from someone that mass produces pumpkin rolls as holiday gifts.
TIP: Put most of the icing near the INSIDE of the roll. It will squeeze out when you roll and fill the end you didn't put icing on so it does all squeeze out the ends.
TIP: Cut off the ends of the banana roll (or any roll) so you have a pretty end. Then eat the scraps so you don't have to tell anyone you cut the ends off to make them pretty.
Now I took my pretty banana roll to dinner at my parents. Not only did Brian like, remember he doesn't like banana, but my dad liked it. The banana roll is so rich I finally gave up and took half the second one to work so it didn't get wasted. I had a co-worker stop me and ask I made the banana roll. I said yes and he said "that was seriously good." Man, was I smiling at that comment! 🙂
Now you know you have some bananas laying around or some in your freezer so try this recipe out! Let me know what you think and Happy Friday!