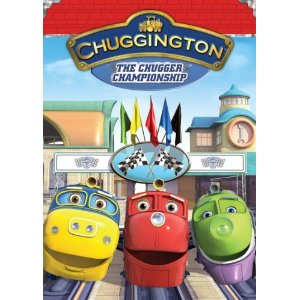 Details …
In "The Chugger Championship," the traintastic trio is ready to put their "wheels to the rails" for the biggest race in Chuggington!  These six, action-packed adventures will have the whole family cheering. Young fans join Wilson, Brewster and Koko as they prepare for a test, invent a new contest and pick up a fun hobby, while learning about the importance of accountability and responsibility.  Along the way, the three friends – and viewers at home – discover that a true champion isn't always the one who finishes first!
"The Chugger Championship" is the newest addition to Anchor Bay Entertainment's "Chuggington" DVD collection, which also includes "Chuggers To The Rescue," "It's Training Time" and "Let's Ride The Rails."
Our Thoughts …
Little Dude loves Chuggington and does this crazy happy dance when we get Chuggington DVDs. He is getting  more and more into cars and trucks and well trains have wheels so they are becoming cool too.
This DVD includes the following episodes:
The Chugger Championship" — All the chuggers compete in the annual Chugger Championship to see who is the fastest
"Helpful Hodge" — Wilson and Koko compete to see who can complete the most "helpful" tasks in a day
"Cool Wilson" — Brewster and Wilson vie to be assistants to the ice-cream train, "The Great Frostini"
"Brewster's Hobby" — Brewster the train has a new hobby, "people-spotting," (LOL), and it interferes with his work
"Wake Up Wilson" — Wilson and Koko stay up very late one night, with near-disastrous results
"Koko Pulls It Off" — The three trainees face a nerve-wracking test of passenger train-pulling skills
You can buy this DVD on Amazon in time for Christmas!
NOTE: I was sent a copy of this DVD in support this review. No other compensation was received. All thoughts and opinions expressed in this review are my own.