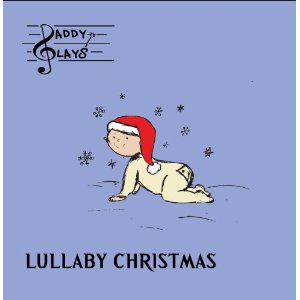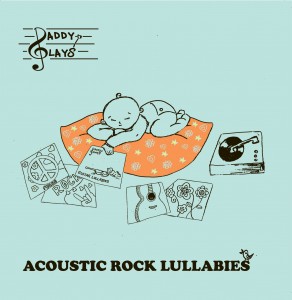 Details …
Daddy Plays Christmas Lullabies is a collection of holiday classics that bring the joy of Christmas into your home. Share the sounds of the season with your baby, make Sleepy Time part of your family's holiday experience. Give The Gift Of Music!
DADDY PLAYS: Acoustic Rock Lullabies celebrates some of the most memorable and melodious acoustic guitar moments in rock & roll history. Now you can share music by: The Rolling Stones, The Beatles, Simon And Garfunkel, Led Zeppelin and other acoustic guitar masters with your baby. Sleepy time has never been so cool!
Our Thoughts …
We were first introduced to Daddy Plays a few months ago with the Daddy Plays Lullabies CD. My girls love this CD so I was excited to be asked to review these two new releases.
First up, Daddy Plays Christmas Lullabies … I don't think the kids will get this CD. It is Christmas music made simple. I love acoustic music and I was ready for it start snowing (OK, not really but pretty darn close!) when listening to this CD. This might be some good sitting by the fire place after the kids go to bed and I stare at the Christmas tree until I fall sleep music!
Daddy Plays Acoustic Rock Lullabies … When I saw that this CD had Beatles songs on it, I was all for it. I loved listening to the Beatles as a kid (I know that might seem odd but oldies were on the approved listen to lists my folks had for us!) I tried to figure out the songs as I went along but I am horrible at that. I am going to challenge Brian soon to see if he can figure them out. I am sure he will get most of them because they are great, simple versions of the songs and his brain holds information like song titles like he is going to be on Jeopordy tomorrow and win big cash. Maybe you should take the challenge and at the same time introduce your kids to a great song collection!
We suggest you head over to Amazon to pick these up for Christmas stockings or to pop into your own CD player and not tell anyone that it was for you and not your kiddo!
Have you listened to Daddy Plays music yet?
Leave us a comment and let us know!