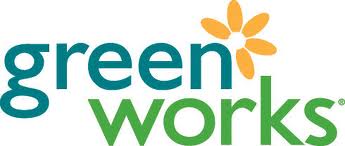 I recently receive a review package that included …
Green Works Cleaning Wipes
Green Works Laundry Detergent
Green Works Bathroom Cleaner
Green Works All Purpose Cleaner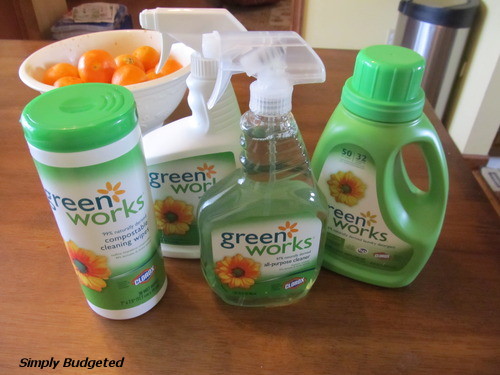 Details …
Green Works Cleaning Wipes –  It is 100% compostable, so you can clean up after your family and guests, and feel good while you're at it!
Green Works Laundry Detergent –  The dermatologist-tested formula is gentle on skin and formulated for both standard and high-efficiency (HE) washers, so you can be sure that your laundry will be fresh and clean….load, after load, after load
Green Works Bathroom Cleaner –  The bathroom cleaner is a non-toxic way to power through soap scum, rust and hard water stains — without harsh chemical fumes and residue.
Green Works All Purpose Cleaner –  It is safe to use on multiple surfaces throughout the kitchen and bathroom, including counters, appliances, stainless steel, sealed granite, chrome, cook top hoods, sinks and toilets.
I love the Green Works All Purpose Cleaner. I use it all of the time so I was excited about that product for sure. I can use the All Purpose Cleaner in the bathrooms, the kitchen , the dining room table, … I carry it around the house when I clean. Seeing that I love the effectiveness of the All Purpose Cleaner and its lack of a strong smell I was really excited to try the other products. I am a big no scent or light scent person thanks to my allergies. These products all live up to the Green Works name for sure.
The Bathroom Cleaner has made its home … in the bathroom of course. The Cleaning Wipes sit near the cat box as I use wipes to clean the box out. I have been using another brand that has a strong clean smell that makes me sneeze but I know they clean so I used them. These were much easier for me to use. The Laundry Detergent is on the shelf in the laundry room where is should rightfully be! I hope I can find sales for this as I really only buy laundry detergent on sale since I am so picky about what I buy.
Have you tired the Green Works line of cleaning supplies? If so, which one is your favorite? If you need a starting point of trying them out, I still highly recommend starting with the Green Works All Purpose Cleaner. You won't go back! Psst … you can like Green Works on Facebook too!!
NOTE: A a gift pack of Green Works items, in partnership with Mom Bloggers Club, was provided in exchange for this review.  All opinions expressed in this review are my own honest opinions.