So here it is, the last week of our 21-day challenge.  Finally, we get to add grains back into our diet (grains, yes, but gluten, no).  It was soooo nice to feel full again yesterday!  We thought we would try out this Chickpea-Brown Rice Veggie Burger.  We aren't usually big fans of veggie burgers, but this one looked pretty decent.  As it turns out, it wasn't half bad.  The taste was a little nutty (because of the brown rice) and earthy.  It had a crisp texture on the outside, but was creamy on the inside.  I had to be pretty careful flipping them because they wanted to fall apart on me.  In my mind, it was more like a salmon or crab cake.  Shaped a little smaller and served up with a little lemon juice or some kind of sauce and they would probably fill that bill just fine.  We served it up with lettuce, tomato, red onion and a small serving of french fries (hey, you've got to indulge sometimes, right?)
As for making the recipe, I had a couple of hiccups doing it.  That always leads to tips for you guys!  First of all, the recipe calls for an egg.  Since we are following a vegan diet for a bit here, that presents a bit of a problem.  I found a solution, though!  Take 1/4 teaspoon of flax seed and whir up to a dust in your spice grinder (I use a cheap coffee grinder that I never use for coffee).  Then blend that up for a couple of minutes with 1/4 cup of water.  That will replace one egg as a binder in your recipe.  The recipe also says to mash the chickpeas and rice.  Unless you've got arms of steel, pull out a food processor and spin it until you've got a nice dough-like consistency.  Then add the rest of the stuff in.  Here are the results!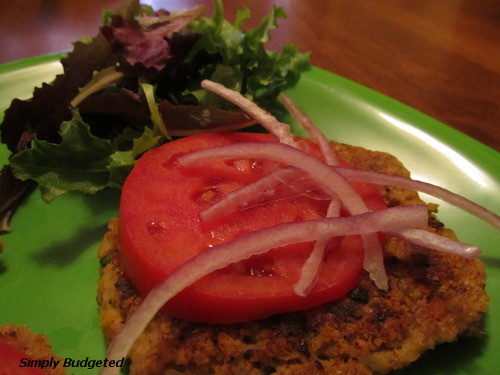 I cooked the rice, mixed up the burger stuff and cooked these in between breaks of football games on Sunday so I know that you can do this at home.  A little time and patience and you too can put good, healthy (and cheap) food in front of your family.  By the way, the kids devoured it!
We hope you enjoy this Meatless Monday.  Leave us a comment if you enjoy it or let us know what you are having tonight.  If you are interested in Meatless Monday and want to get some more information about joining in the movement at your home, check out this site or send us an email.