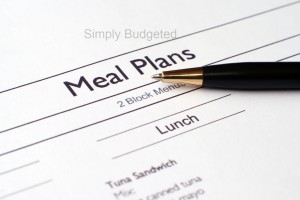 We are so very happy to be back to our normal meal plans.  Our little experiment went very well with both of us losing a fair amount of weight, but the draw of meat and the need to feed our kids healthy food that they will actually eat just became too much.  We did learn quite a bit about eating meat more sparingly and focusing our meals more on healthier grains and vegetables.
This month's meal plan is almost like a "greatest hits" of many of our favorite dinners.  Some of it is time intensive (but so worth it), some things are convenient cheats, and others are just plain good.  We hope that you give some of these great ideas a try!
April 2012 Monthly Meal Plan
Week 1 (April 1 – April 7)
Sunday–Chicken and Mushroom Pizza
Monday–Vegetarian Tapas
Tuesday–Pork Stir Fry
Wednesday–Lasagna
Thursday–Leftovers
Friday–Chicken Sandwiches
Saturday–Coffee Rubbed Beef Sandwich with Chipotle BBQ Sauce and Apple-Parsnip Slaw
Week 2 (April 8 – April 14)
Sunday–Easter Dinner!
Monday–Portobello Mushroom Sandwich
Tuesday–Tacos
Wednesday–Spaghetti with Meat Sauce
Thursday–Leftovers
Friday–Pizza
Saturday–Date Night!!
Week 3 (April 15 – April 21)
Sunday–Fish with Tempura Veggies
Monday–Pancakes
Tuesday–Chicken and Rice
Wednesday–Chili w/ Cornbread
Thursday–Leftovers
Friday–Chicken Pot Pie
Saturday–Shrimp Kabobs w/ Rice Pilaf
Week 4 (April 22 – April 28)
Sunday–Chicken and Waffles
Monday–Panzanella
Tuesday–Cheese Quesadillas with Corn Salsa
Wednesday–Hot Ham and Cheese Sandwiches
Thursday–Leftovers
Friday–Subs
Saturday–Shrimp and Grits
Week 5 (April 29 – May 5)
Sunday–Fried Chicken Dinner
Monday–Spinach Ravioli
Tuesday–See May Meal Plan
Wednesday–See May Meal Plan
Thursday–See May Meal Plan
Friday–See May Meal Plan
Saturday–See May Meal Plan
As always, if you are looking for recipes or answers on monthly meal planning, please leave a comment or email us with your questions.  We can't promise that we will have all of the answers, but we will do our best to find them!  Just send us an email at [email protected].
Have you tried monthly meal planning? How did it go? Any tips or suggestions?