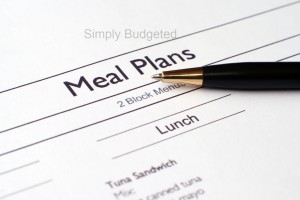 Our monthly meal plan is a staple of our budgeting process.  We look at it this way.  We are planning meals one way or the other.  We can do it on the fly, trying to figure out each day what we are going to feed our kids; we can plan week to week, spending the time planning while we make our grocery list or letting the grocery store choose for us while we shop; or we can put in a little time at the beginning of the month and make it easier each week to just write out a shopping list and get what we need.  Since we've started planning month to month, we have found that we actually spend less time planning what we eat.
This month, we are focusing on a number of different comfort foods.  These are foods that we love to eat, that the kids will eat, and that pair well with large salads and multiple sides of veggies.  On several nights, we will actually be recreating that idea of a "Blue Plate Special"–a meat, a starch, and two veggie sides, served with a side salad.  We are upping the veggie quotient this month.  Why don't you check out what we're having and join us for a couples of meals?
May 2012 Monthly Meal Plan
Week 1 (April 29 – May 5)
Sunday–See April Meal Plan
Monday–See April Meal Plan
Tuesday–Spaghetti Dinner
Wednesday–Veggies and Cold Cuts
Thursday–Leftovers
Friday–Pizza Night!
Saturday–Fish in a Pouch
Week 2 (May 6 – May 12)
Sunday–Beef Bourguignon
Monday–Veggie Subs
Tuesday–Eggs, Bacon, and Western Hash
Wednesday–Veggie Spanish Tortilla
Thursday–Leftovers
Friday–Fried Fish
Saturday–Picnic Dinner!
Week 3 (May 13 – May 19)
Sunday–BBQ Chicken (Beth's Mother's Day request)
Monday–Broccoli Rice Casserole
Tuesday–Taco Tuesday!
Wednesday–Turkey Sliders
Thursday–Leftovers
Friday–Meatball Subs
Saturday–Dinner Out!
Week 4 (May 20 – May 26)
Sunday–Pork Stir Fry
Monday–Quinoa and Potato Stew
Tuesday–Smothered Chicken
Wednesday–Baked Potatoes
Thursday–Leftovers
Friday–Pizza
Saturday–Baked Fish
Week 5 (May 27 – June 2)
Sunday–Steaks
Monday–Fried Mac & Cheese
Tuesday–Chicken Fried Steak
Wednesday–Quiche
Thursday–Leftovers
Friday–See June Meal Plan
Saturday–See June Meal Plan
As always, if you are looking for recipes or answers on monthly meal planning, please leave a comment or email us with your questions.  We can't promise that we will have all of the answers, but we will do our best to find them!  Just send us an email at [email protected].
Have you tried monthly meal planning? How did it go? Any tips or suggestions?