Last week we went easy with the pancake dinner. This week is another easy meatless recipe for you because sometimes life is just about being easy. We love burgers but we aren't big on the alternative meat foods. The ingredients in those foods, especially the sodium, just seem to make them a less than ideal meatless choice. We do love mushrooms though and they have a wonderful meaty taste to them.
When grilled up and seasoned just right, portobello mushroms are a hearty and healthy alternative to your typical burger.  You can find them in just about any supermarket produce section and they are pretty reasonably priced when compared with ground beef.  We put ours on a crusty ciabatta roll with lettuce and tomato for a nice warm weather treat.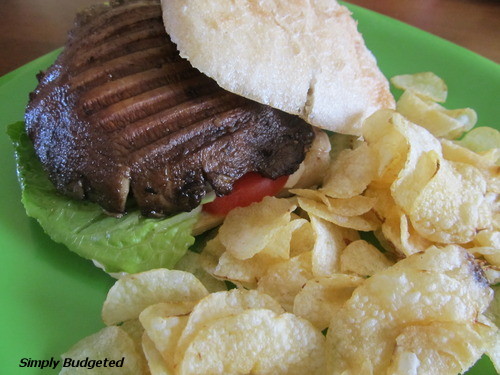 Portobello Mushroom Burger
While it's not necessary, I always remove the gills (the black stuff on the bottom of the mushroom) and cut the stem down pretty small.  You can use an outdoor grill or a grill pan for this, but since we had out our panini press from the weekend, we decided to give that a try.  It worked out very well and saved time by cooking both sides at once, but I did miss the little big of extra char and smokiness that the outdoor grill provides.
Ingredients
4 large portobello mushrooms
2 Tbsp olive oil
2 Tbsp hamburger or steak seasoning rub
4 ciabatta rolls, halved
additional oil for brushing rolls
1 beefsteak tomato, sliced
1 head romaine lettuce, torn into leaves
Directions
Combine mushrooms, oil, and seasoning in a large bowl.  Let sit for 15-20 minutes so that the mushrooms can soak up the flavor.  Grill over a medium-high flame for 5-10 minutes or until most of the liquid has released from the mushroom and the outside is slightly charred.
Brush the rolls with a thin layer of oil before toasting them lightly.  Assemble sandwiches with lettuce, tomato, or any condiments that you prefer and serve with chips and a small salad for a healthy and tasty meal.
Have you had a portobello mushroom burger before? Do you love other meatless burgers?  Have a Meatless Monday experience, recipe, or request?  Leave us a comment and let us know what you're up to!
Meatless Monday, a national nonprofit public health initiative, is all about incorporating more vegetables and less meat into our diet.  It's about moderation, just one day a week, cutting down on meats high in saturated fat and increasing protein-rich plant-based foods — good for personal health and good for the planet.