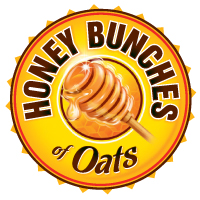 Details …
Honey Bunches of Oats has 10 grams of Whole Grain and 6 grams of sugar per serving. Honey Bunches of Oates Honey Roasted proved 9 essential vitamins and minerals!
Heart Healthy — Diets low in saturated fat and cholesterol, and as low as possible in trans fat, may reduce the risk of heart disease.  Honey Bunches of Oats has:
0 g Trans Fat
0 g Saturated Fat
0 mg Cholesterol
My Thoughts …
This cereal is know as a "daddy cereal" here in our house. It is one of the few cereals that I actually enjoy eating. Where Beth grew up eating cereal for breakfast almost every morning, that isn't what I generally think of for breakfast. I found it hard to find a cereal I really liked as I am not big into sweet cereals (still weekend cereals to Beth) or the many that taste like cardboard. Honey Bunches of Oats has a sweetness to it but it isn't like eating a bowl of sugar plus there is no cardboard taste. So yes, this is a daddy cereal and I am always thrilled when my kids ask for a bowl of my cereal to start their day as I know they getting a healthy start to their day!
We are excited to offer a giveaway to our readers! TWO (2) of our readers will each receive TWO (2) coupons for free boxes of Honey Bunches of Oats!
a Rafflecopter giveaway