When we do Meatless Monday, we are so focused on our dinner being meatless, that I actually forget about keep meat out of lunch sometimes.  To keep us on track a bit, we are going to start working on some easy lunch and snack options.  Today's efforts?  Salad Wraps!
We all love wraps!  No recipes here.  Just take a tortilla, pile some salad, cheese, hard-boiled eggs, etc. in the middle, top with some dressing, and wrap it all up!  I love that it can be a little different everyday.  Maybe I'd like to have hard boiled eggs one day or add a little bite with a Buffalo Ranch dressing.  Serve with a side of chips or a pickle and you've got a healthy, meatless lunch.  Enjoy!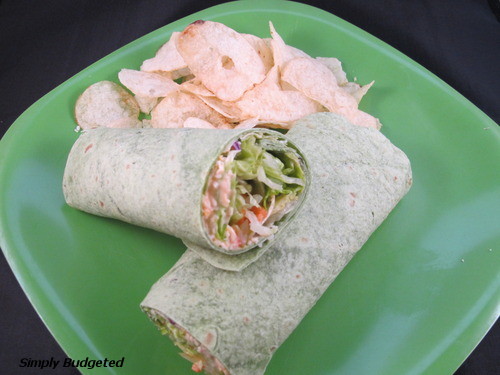 What easy lunches do you have for Meatless Monday?  Have a Meatless Monday experience, recipe, or request?  Leave us a comment and let us know what you're up to!
Meatless Monday, a national nonprofit public health initiative, is all about incorporating more vegetables and less meat into our diet.  It's about moderation, just one day a week, cutting down on meats high in saturated fat and increasing protein-rich plant-based foods — good for personal health and good for the planet.