DINOSAUR TRAIN's "Buddy" supports "The Great American Backyard Campout" initiative, organized by the National Wildlife Federation (NWF), coming up on June 23.  The campaign is devised to remind parents and children the importance and benefits of spending time outdoors. 
"Nature," as part of childhood, has changed to not having much nature in it at all.  The NWF provides some interesting facts about just how much times have changed, and the implications of spending less time outdoors.  Did you know for example:
•       Children are spending half as much time outdoors as they did 20 years ago. (Juster et al 2004); (Burdette & Whitaker 2005); (Kuo & Sullivan 2001)
•       Today, kids 8-18 years old devote an average of 7 hours and 38 minutes using entertainment media in a typical day (more than 53 hours a week). (Kaiser Family Foundation)
•       In a typical week, only 6% of children ages 9-13 play outside on their own. (Children & Nature Network, 2008)
•       Children who play outside are more physically active, more creative in their play, less aggressive and show better concentration. (Burdette and Whitaker, 2005; Ginsburg et al., 2007)
•       Sixty minutes of daily unstructured free play is essential to children's physical and mental health. (American Academy of Pediatrics, 2008)
•       The most direct route to caring for the environment as an adult is participating in "wild nature activities" before the age of 11. (Wells and Lekies, 2006)
Be a part of the NWF's "Great American Backyard Campout" and set an example for children that will get them excited about the great outdoors!  
You can participate in the campaign by registering for FREE at http://www.nwf.org/Get-Outside/Great-American-Backyard-Campout.aspx.   Whether or not you can participate on June 23, the website provides FREE helpful information to make your camping experience a fun one, including campfire recipes, nocturnal wildlife guides, campfire songs and games, nature activities and much more.
Book Details …
The Pteranodon family is going on a campout! This adorable 8 x 8 is perfect for a first camping trip or night away from home.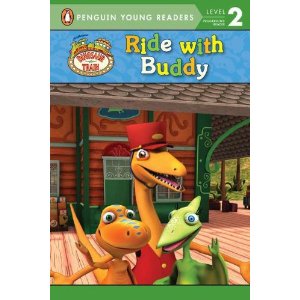 In this original story, Buddy introduces readers to his friends and family on the Dinosaur Train. This Level 2 reader is perfect for young fans who are starting to read on their own.
Our Thoughts …
We were excited to get these book as Matthew LOVES dinosaurs so that makes Dinosaur Train an immediate hit around here! (Remember the message board I made?) Well I have to say that these books came at a perfect time as we were talking about Grace camping at Girl Scout camp. The girls had the opportunity to spend one night at the park and with all of the camping talk, Dinosaur Campout fit right in our conversations!
As for Ride with Buddy, this has been a perfect practice book for Grace. We have set her reading goals for the summer so she doesn't forget all of her reading skills during the summer. She was excited to have a new book to read to not only us but her brother and sister! I love that this book is a Level 2 book as it challenges her slightly which she really needs as she is reading. One my new favorite moments is sitting there listening to her read to us or her brother and sister. I hope that books like this help encourage her love of reading even more this summer!
You can find both of these books on Amazon for a great price (and right now a buy 3 get 4 promotion!)
Do you have a reading goal at your house this summer? What books are you reading at your house? Leave us a comment and let us know!