Friday Favorites is another almost weekly feature here at Simply Budgeted. The whole point of this feature is to share some of our favorite finds. Anything is game. Food. Cleaning supplies. Kid stuff. Garden favorites. Recipes. Anything that I really like and want to randomly post about.
Reminder/Disclaimer/Whatever: Everything in Friday Favorites is something that we use and bought on our own.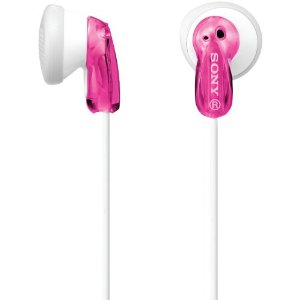 Details …
Product Features
13.5mm driver unit, neodymium magnet, 1.2m cord
Wide range of colors to choose from
Enjoy powerful bass on the go
Pair with a music player
 Technical Details
Brand Name: Sony
Model: MDRE9LP/PNK
Color Name: Pink
Item Weight: 0.01 pounds
My Thoughts …
I have a thing for pink accessories … especially at the office. I have my pink mouse and these pink earbuds. I listen to internet radio or audiobooks as I work and I find these earbuds to be really comfortable. They are reasonably priced too. Sure they are $2 ones but the less than $10 price for quality earbuds that don't fall apart on you is a good deal.
They are a great price on Amazon too!
Do you have a favorite pair of earbuds? What is your favorite feature? Leave me a comment and let me know!