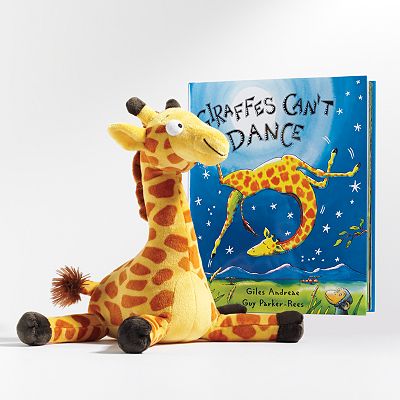 Details …
Now through the end of June, Kohl's features exclusive Guy Parker-Rees illustrated storybooks, Down by the Cool of the Pool, Dinosaurumpus! and Giraffes Can't Dance,  through the Kohl's Cares® cause merchandise program. Hardcover editions, coordinating plush toys, and matching tote bag are available at Kohl's stores nationwide and online at Kohls.com for just $5 each, with 100 percent of the net profit benefitting children's health and education initiatives nationwide.
Look for Kohl's Cares Cause Merchandise for Kids at your local store!

Down by the Cool of the Pool – Children will love to sing and dance along as the story comes alive with animal sounds and celebration!
Giraffes Can't Dance – This adorable story will teach children about the importance of individuality in a tale of a giraffe with two left feet.  
Dinosaurumpus! – Read this fun story aloud to children and watch their excitement as they get a glimpse into the life of a dinosaur. Who knew dinosaurs could dance? This book and coordinating plush are available exclusively at Kohls.com only.
NEW ITEM: Down by the Cool of the Pool tote bag – Resourceful and cute, this multi-purpose tote bag is great for the pool, a sleepover or even a trip to the grocery and features a vibrant illustration from Down by the Cool of the Pool – a must have for summer!
Our Thoughts …
The kids love the stuffed Giraffe … it is sitting with a Kohl's Cares program lizard as I type this! As for the books … our kids love books. They can not get enough books. This morning I had to read three books BEFORE I left for work (one picked by each kid if you are counting). So new books are always a hit. I love the stories in the Kohl's Cares book and the pictures are always great for the non-readers to look at as they listen (and learn!) These stories are fun and will leave you giggling with your kids!
We have been provided the opportunity to giveaway a Kohl's Cares gift box to one our readers!
a Rafflecopter giveaway